2013 College Basketball Team Preview: Memphis Tigers
by Mike John
The Memphis Tigers made a measure of progress last season and bring back most of their returning talent. This is definitely a season in which the Tigers are expected to make the second weekend of the NCAA tournament. They might even be able to get to the third weekend, otherwise known as the Final Four.


Memphis's Strengths:
The Tigers have never lacked athleticism in recent years. The question for NorthBet experts has been a matter of execution. Memphis has several jump-out-of-the-gym athletes who are skilled shot blockers and rebounders. This team can run the floor and excel in open-court situations, playing at a fast tempo. The issue for this team is its ability to run crisp halfcourt sets, and this season, it might have the point guard who can put all the pieces together.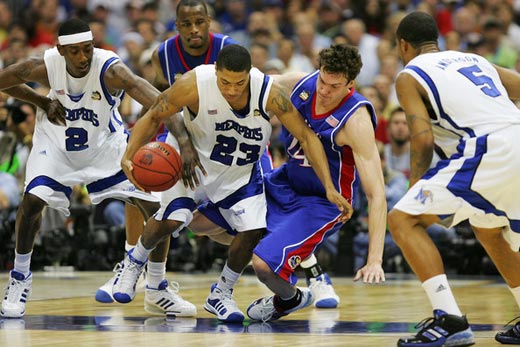 Joe Jackson became a better floor leader for this team, even though his 2012-2013 season was pockmarked with many periods of inconsistency. Jackson should be in a position to perform and produce at a steady rate this season. If Jackson's season acquires the trajectory of a strong and mature player – starting in a solid fashion and slowly improving with each week, without any real drop-offs heading into February and March – Memphis could be a genuine Final Four contender.
If you see the Tigers putting together intelligent offensive possessions, using good shot selection and demonstrating good floor spacing, you will know that this team is ready to go to the next level.
Memphis's Weaknesses:
The Tigers don't yet know if they have
the coach that can lead them to the Final Four. They made the big stage in college basketball under former
coach John Calipari
, becoming a regular presence in the Elite Eight and making the national championship game in 2008. New coach Josh Pastner has, by all accounts, recruited well, but he has yet to put together the kind of NCAA tournament run that will make his fan base believe.
Pastner cut his teeth in coaching as an assistant to Lute Olson at Arizona. When Calipari left Memphis to take the head coaching position at Kentucky before the 2009-2010 season, Pastner became the head man in Tennessee. It took him awhile, but Pastner finally won his first NCAA tournament game this past season and made some solid in-game adjustments in Memphis' round-of-32 loss to Michigan State, in what amounted to a road game for the Tigers.
Now, Pastner must try to find a way to coach his team with great skill and acumen throughout a full season. Memphis can't stumble around in November and December – not in The American Conference, its new home after several seasons in Conference USA. Pastner must take hold of this team from the start.
Odds AtNorthBet To Win National Championship: +3900
Are They Worth A Shot On The Odds At NorthBet To Win It All?
The Tigers are a solid choice to make the Sweet 16. Anything beyond that, however, still seems quite improbable at this point.
When you like
Northbet
on Facebook you'll see why so many people choose Northbet as their website of choice.