2013 NBA Basketball Team Preview: Indiana Pacers
by Mike
The Indiana Pacers didn't stand pat in the offseason. They made moves that have tangibly improved this roster, giving them a very real chance to beat the Miami Heat in a fierce battle for the NBA's Eastern Conference championship in the spring of 2014.


Indiana's Strengths:
The NorthBet consensus is that Indiana is a better team than it was last season. The Pacers have made themselves better with the addition of power forward Luis Scola in a multi-team trade. Scola, an international star for Argentina's national team, adds power, versatility and savvy to the Pacers' lineup. He provides a presence that will give David West some much-needed help on the interior. Indiana will be able to distribute minutes a lot more effectively this season, especially in the playoffs. Scola's scoring ability is enough to keep defenses honest. He's a perfect fit for this team.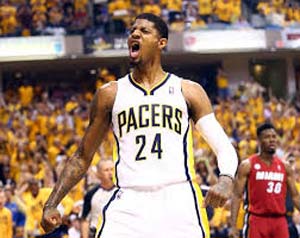 The Pacers have burgeoning stars at two positions on the floor as well. Roy Hibbert took huge forward strides last season as a center. He became more polished at the offensive end, finding a jump hook and a generally reliable low-post game while showcasing a credible midrange jumper that should get better in the months to come. The other star on the Pacers' roster is shooting guard Paul George, who made legitimately spectacular plays throughout the Eastern Conference playoffs, especially against the Miami Heat in a riveting duel with LeBron James.
George is close to being a superstar in the league – he probably needs a big-time 2013-2014 season to secure such status. If he continues to develop his game, Indiana is going to be such
a load to deal with in the East... even (and especially) for the Heat.
The Pacers generally explode with talent and a great mix of youth and experience. They have very few weaknesses and seem primed to make life even more difficult for Miami this season.
Indiana's Weaknesses:
The Pacers' big problem last season was perimeter shooting. There were too many players who simply could not hit jump shots with great regularity. Lance Stephenson's jumper came and went. The same was true for George Hill at the point guard spot. This season, the Pacers get back Danny Granger, sidelined for virtually all of the 2012-2013 season with lingering injuries. Incorporating Granger into the lineup and giving him a substantial amount of minutes could easily disrupt the chemistry the Pacers established on the floor last season.
Another question is small forward Chris Copeland, a reserve taken from the New York Knicks who has a great perimeter jumper but is suspect on defense. How Copeland fits into the mix will be something to monitor as the season goes along. All in all, Indiana has to integrate a few players into its system, and that process could prove to be painful.
Odds AtNorthBet To Win The NBA Championship: +1100
Are They Worth A Shot On The Odds At NorthBet To Win It All?
The Pacers have an NBA championship-caliber team. They're getting a better price than the Chicago Bulls. You want to give strong consideration to a championship bet with this team. You can stay on top of the NBA this year by following
Northbet
on Twitter and by checking out some of the latest
Northbet reviews
.