Best All Time College Basketball Arena


The University of Kansas Allen Fieldhouse is the best all time college basketball arena. And this is fitting. After all, James Naismith is known as the inventor of basketball and coached Kansas from 1898 – 1907.
Kansas' Allen Fieldhouse was been built in 1955 in Lawrence, Kansas and can accommodate around 16,300 basketball fans. While it is known that some other arenas are way bigger than this one, the Allen Fieldhouse brings the spectators surprisingly close to the action, compared to other basketball arenas. The arena is comprised of all bleachers, making it easier to accommodate a larger number of fans, and the crowd is spread out on three concourses, reducing pedestrian congestion. Kansas fans also have certain traditions like the "Rock Chalk JayHawk" chant that adds to the pageantry and atmosphere of the stadium, making the experience even more unique in a way that almost rival Duke's fans. As Kansas has a team on the Top 10 consistently, there is no doubt that a game at the Allen Fieldhouse is always a greatly enjoyable experience of a NCAA basketball game.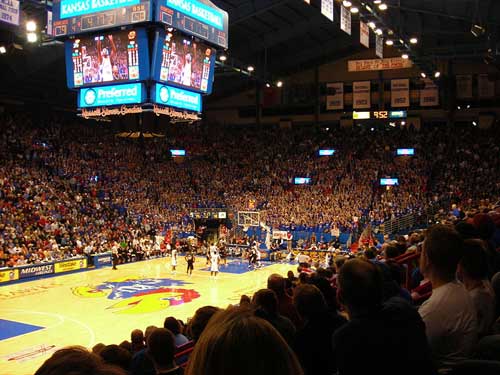 Allen Fieldhouse during the KU Oklahoma State game during the 2006-2007 Season. Thanks to wikipedia for the picture.
---

The Allen fieldhouse is generally considered one of the top b-ball forums in part because of the spectators being so close to the court, raising the volume of sound to its maximum and creating an amazing atmosphere. It's very difficult, especially for the visiting team, to even hear at times. As mentioned before, student traditions also help to make this arena memorable. Usually, when introducing the opposing team, the fans will wave copies of the student-run journal of Kansas University, in a collective effort to show their disinterest in the opponents. When the JayHawks are introduced, fans will tear up their journal and throw the confetti pieces in the air. Another tradition that enhances the Allen Fieldhouse experience is that when the JayHawks are leading and there is only 2 minutes left to the game, the fans will start singing a slow version of the Rock Chalk chant, encouraging their team and celebrating an early victory.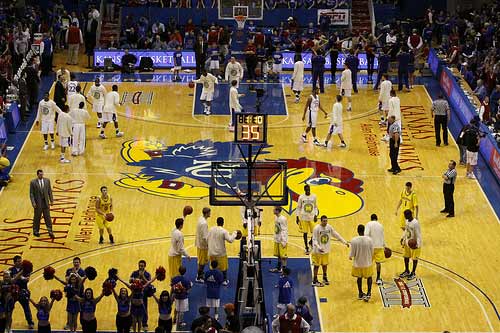 University of Kansas Allen Fieldhouse. Thanks to rrescot on flickr.com for the picture.
---

While some college arenas are larger and more modern, Kansas' Allen Fieldhouse has a charm and atmosphere that is truly unique and that help this arena to be considered as quite possibly the best all time college basketball arena.
What do you think?

We'd love to hear your comments and/or opinions. If you submit them here, other visitors can read them, rate them and comment on them. An e-mail address is not required.




---
Best All Time College Basketball Coach
|
Best All Time College Basketball Conference
|
Best Women's Basketball Conference
|
Best Current College Basketball Conference
|
Best All Time College Basketball Fans
|
Best All Time College Basketball Rivalry
|
Best All Time College Basketball Scorer
|
---
From Best All Time College Basketball Arena to NCAA Basketball History | Best All Time Sports Blog | History of Professional Football | MLB History | History of NBA | History of Hockey | NCAA Football History | NCAA Baseball History | History of College Sports | Olympic Sports History | History of All Sports | Best Moments in Sports History | Worst All Time Sports Moment | Current Best All Time Sports News | NFL Football Apparel and Merchandise | MLB Baseball Apparel and Merchandise | NBA Basketball Apparel and Merchandise | NHL Hockey Apparel and Merchandise | College Fan Apparel and Merchandise | Other Sports Fan Apparel and Merchandise | Fathead | Sports Tickets |
---
Return to Home Page
About Us | Contact Us | Site Search | Advertise | Terms of Use / Privacy Policy |
---