Best All Time College Basketball Program


What is the "greatest" college basketball program in history? The question is extremely vacuous. Ones answer may depend on any number of factors. Does one value older decades as much as the recent past? Is the success of the programs' players in the professional ranks important? Do titles matter or is overall excellence more essential? While different people would choose various programs based on the criteria they value, the program that has excelled consistently in all major areas is the University of California, Los Angeles.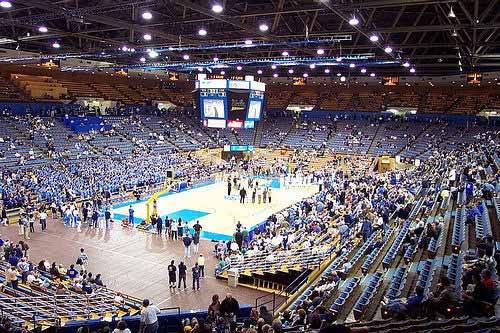 Pauley Pavilion is the main basketball venue of UCLA.
Thanks to rdesai at flickr.com for the picture.
---
What makes the Bruins program stand above the rest? The first reason can be summed up in one word, "titles." UCLA has won eleven NCAA national titles; four more than second place Kentucky. Under John Wooden, the Bruins won ten of those titles between 1962 and 1975 (with one of three misses being a third place finish) and presided over the most dominant period of college basketball is history by far. Not even Kentucky legend Adolph Rupp, who won four titles in the 1950s, came close to ruling the sport the way Wooden did.

Furthermore, while UCLA's performance has diminished since 1975, the Bruins did not disappear as many fans sometimes assume. In fact, the Bruins made the Elite Eight under Gary Cunningham in 1979 and then lost the Finals in 1980, resurfaced under Jim Harrick to perform well in the early 1990s and win a national title in 1995. In addition to this last title, UCLA has been a major player in the 2000s under Ben Howland with a championship game appearance in 2006 and final four finishes in 2007 and 2008. Therefore, while the Bruins certainly did not replicate Wooden's success after 1975, they certainly did not fall off the map and have maintained their mystique as a program.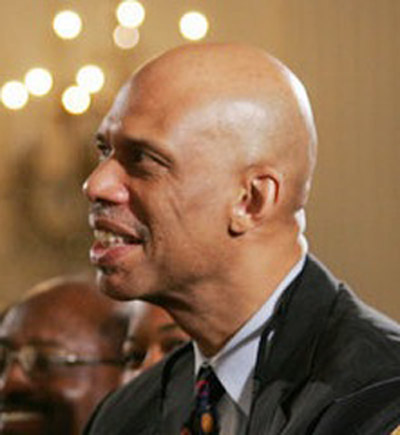 Kareem Abdul Jabbar. Thanks to wikipedia.org for the picture.
---

Furthermore, no other program can rival the collection of NBA talent that wore Bruin colors. The all-UCLA team reads like an all-time NBA squad: Walt Hazzard, Gail Goodrich, Sidney Wicks, Bill Walton, and Kareem Abdul Jabbar. With four all-time greats and NBA Hall of Famers in the starting lineup, this team is unrivaled. Indeed, to provide a comparison, Kentucky's all-time squad would include Rajon Rondo and Antoine Walker as its leading members.

Overall, what makes UCLA the top college basketball program in history is its combination of dominance, longevity, and NBA success. The Bruins dominated college basketball in a way that was never seen before and hasn't been seen since. Their greatest players, Hazzard, Goodrich, Walton, and Kareem, went on to join the NBA Hall of Fame pantheon. Looking at all the facts, is it really possible to choose any other program?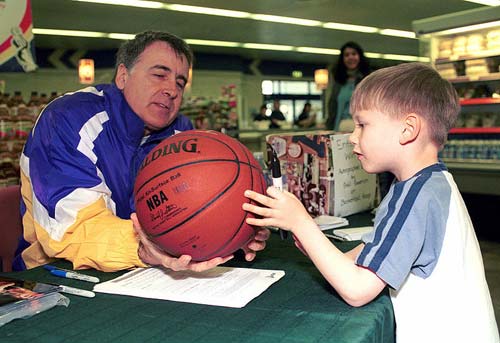 Goodrich (left) autographing a basketball in 2001.
Thanks to wikipedia.org for the picture.
---
What do you think?

We'd love to hear your comments and/or opinions. If you submit them here, other visitors can read them, rate them and comment on them. An e-mail address is not required.




What Other Visitors Have Said
Click below to see contributions from other visitors to this page...

UCLA Not Best College Basketball Program of All-Time






If the criteria is championships, UCLA is the clear winner. But that is only one part of college basketball. Further, to use NBA draftees as a criteria …
---
Best All Time College Basketball Player | Best All Time College Basketball Team | Best All Time College Basketball Coach | Best All Time College Basketball Conference | Best Womens Basketball Conference | Best Current College Basketball Conference |Best All Time College Basketball Fans | Best All Time College Basketball Revalry | Best All Time College Basketball Scorer | Best All Time College Basketball Arena |
---
From Best All-Time College Basketball Program to NCAA Basketball History |Best All Time Sports Blog | History of Professional Football | MLB History | History of NBA | History of Hockey | NCAA Football History | NCAA Baseball History | History of College Sports | Olympic Sports History | History of All Sports | Best Moments in Sports History | Worst All Time Sports Moment | NFL Football Apparel and Merchandise | MLB Baseball Apparel and Merchandise | NBA Basketball Apparel and Merchandise | NHL Hockey Apparel and Merchandise | College Fan Apparel and Merchandise | Other Sports Fan Apparel and Merchandise | Fathead | Sports Tickets |
---
Return to Home Page

About Us | Contact Us | Site Search | Advertise | Terms of Use / Privacy Policy
---