Best All Time College Basketball Team


There are a plethora of possible, and valid, choices for best college basketball squad of all time. John Wooden's 1970s UCLA teams certainly deserve consideration, as well as 2005-6 Gators repeat champions. SEC faithful swear by the 1996 Kentucky "Untouchables" group that featured 9 future NBA players. However, having taken in consideration a number of factors including the in-season performance, NBA prospects, and enduring mystique, the best team of all time has to be the 1981-2 North Carolina Tar Heels championship team.
The 1981-2 Tar Heels did not feature nine future NBA players. The squad did not create a mini-dynasty on par with the 2005-6 Gators. However, the team made up for its lack of depth and longevity by putting two of the best basketball players of all time (and one additional All Star) on the floor together under the tutelage of two of college basketballs' all time coaches; Dean Smith and Roy Williams.

With a young Michael Jordan, eventually fated to become the best to ever play the game of basketball, at shooting guard, future Laker great James Worthy as the team's leader and small forward, and center Sam Perkins, North Carolina breezed through the season with a 32-2 record and won the NCAA title with relative ease.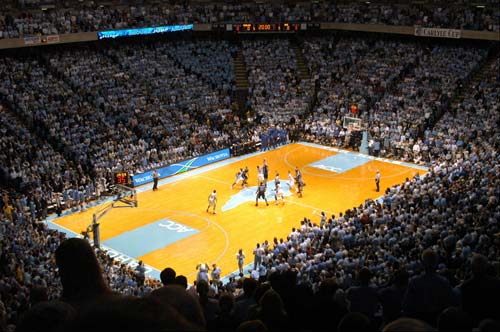 Tip-off of Duke Blue Devils vs. North Carolina Tar Heels men's basketball at the Dean Smith Center, February 2006. Thanks to Anders Brownworth at wikipedia.org for the picture.
---

Ultimately, this team, which was so incredible together, did not endure. Worthy, a senior, left after the season for the NBA and began a Hall of Fame career winning four titles alongside Magic Johnson and Kareem Abdul Jabbar in Los Angeles. Perkins, the stalwart center, left as well and, for all his talent, Jordan was unable to carry the Tar Heels to another title all by himself. But, despite its status as a one hit wonder, the team was, nonetheless, the best collection of top notch talent on any college team-in its time or after. Wrapped in Tar Heel mystique, the team became the standard by which all college hoops greatness is measured.

Not even the 1996 "Untouchables," with their unsurpassed depth, could reach their heights because they lacked its front-page, Hall of Fame talent. Today, with hundreds of Division I schools for each top prep star to choose from, it is unlikely that we will ever again see such a talented duo play on a college court together. As regrettable as that is, it makes us cherish the legacy of the 1981-2 Tar Heels even more. The top college basketball team ever.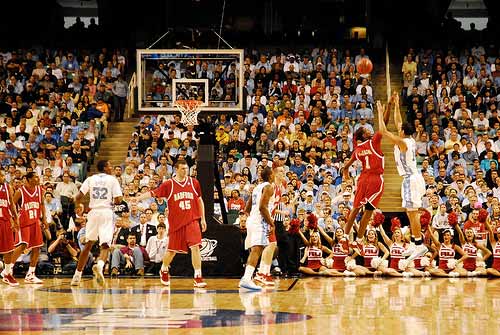 The North Carolina Tar Heel's potent offense and lock down defense was too much for the Radford Highlanders, who fell 101-58. Thanks to Aaron McDowell at flickr.com for the picture.
---
What do you think?

We'd love to hear your comments and/or opinions. If you submit them here, other visitors can read them, rate them and comment on them. An e-mail address is not required.




---
Best All Time College Basketball Player | Best All Time College Basketball Coach | Best All Time College Basketball Program | Best All Time College Basketball Conference | Best Womens Basketball Conference | Best Current College Basketball Conference |Best All Time College Basketball Fans | Best All Time College Basketball Revalry | Best All Time College Basketball Scorer | Best All Time College Basketball Arena |
---
From Best All-Time College Basketball Team to NCAA Basketball History |Best All Time Sports Blog | History of Professional Football | MLB History | History of NBA | History of Hockey | NCAA Football History | NCAA Baseball History | History of College Sports | Olympic Sports History | History of All Sports | Best Moments in Sports History | Worst All Time Sports Moment | NFL Football Apparel and Merchandise | MLB Baseball Apparel and Merchandise | NBA Basketball Apparel and Merchandise | NHL Hockey Apparel and Merchandise | College Fan Apparel and Merchandise | Other Sports Fan Apparel and Merchandise | Fathead | Sports Tickets |
---
Return to Home Page

About Us | Contact Us | Site Search | Advertise | Terms of Use / Privacy Policy
---