Best All-Time College Football Player

Harold "Red" Grange was the best all-time college football player. We pick Red for the impact he had on the game of college football. He was so popular that people flocked to the games to watch him play. He became the first true college football legend. Simply put, Red Grange made college football the great fan sport it is today. It was barely on the radar screen of the general public before Red came along and raised the profile of the sport.
Most people are not aware that Red had only one injury his entire football career. It was during his last football game in high school. He was knocked unconscious and remained that way for two whole days. When Red made it into college at the University of Illinois, he initially did not want to play NCAA football, admitting that the other players "Were just too big." Red wasn't a huge man, by football standards, standing at only 5' 8" tall. In fact, that would be tiny today. Maybe this is why average people loved him so much.
Red Grange played quarterback for the University of Illinois from 1923 to 1925. His nearly impossible plays even went on to inspire poetic verse in some instances. It has been said by some, that football, both college and professional, might never have become as popular as it is today were it not for Red Grange. He drew fans, not only for the University of Illinois but also for college football in general, with some of his seemingly impossible plays.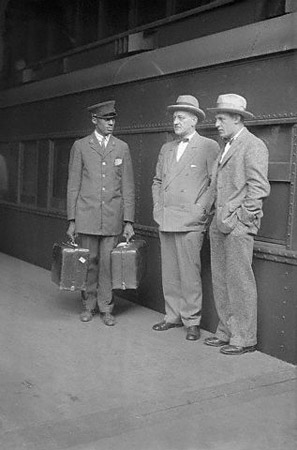 05 Sep 1926, Red Grange and Tom Thorpe arriving in New York City. Thanks to flickr.com for the picture. Source: MajoraCarterGroup
---
One memorable game was the day the University of Illinois Memorial Stadium was dedicated. The Fighting Illini were in for a tough game against their main rivals from Michigan. But the fans, students, faculty, and most importantly, the team wanted a victory desperately. Red's amazing three touchdowns scoring in the first seven minutes of the game against Michigan bordered on the miraculous. The fans were screaming fanatically in the stands as Red made run, after run, after run against one of the toughest college teams of the time. It is said by some, that it was this point in the history of football that the term "fan," short for fanatic, was born.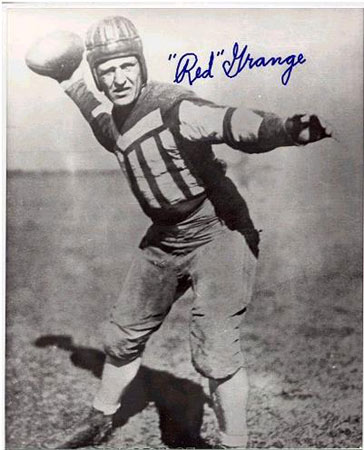 Harold Red Grange. Thanks to flickr.com for the picture. Source: atomicworkshop
---
Red's not just the greatest football player ever for his college football playing. He also set the precedent for our modern draft and professional football recruiting practices. Before Red Grange came along, the NFL was not really interested in recruiting from college; nor did most college grads want to go to the NFL. That changed with Red Grange when the NFL wanted him and he wanted to play in the pros. A day after Grange graduated from U of I, the Chicago Bears picked him up. The Bears knew all too well that a player of this sort of popularity would be what was needed to bring the fan base and team to new levels.
Red Grange has definitely earned his place in both the NCAA Football Hall of Fame, as well as, the NFL Football Hall of Fame. It's not just because of his amazingly skillful plays. It was what he did for the game itself while still just a reluctant college football player. We pick Red Grange as the best player in college football history.
What do you think?

We'd love to hear your comments and/or opinions. If you submit them here, other visitors can read them, rate them and comment on them. An e-mail address is not required.


What Other Visitors Have Said
Click below to see contributions from other visitors to this page...

---
Best All Time College Football Coach
|
Best All Time College Football Conference
|
Most Underrated College Football Conference
|
Best All Time College Football Program
|
Best All Time College Football Cornerback
|
Best All Time College Football Fans
|
Best All Time College Football Linebacker
|
Best All Time College Football Revalry
|
Best All Time College Football Stadium
|
Best College Football Quarterback
|
---
From Best All Time College Football Player to NCAA Football History | Best All Time Sports Blog | History of Professional Football | MLB History | History of NBA | History of Hockey | NCAA Basketball History | NCAA Baseball History | History of College Sports | Olympic Sports History | History of All Sports | Best Moments in Sports History | Worst All Time Sports Moment | Current Best All Time Sports News | NFL Football Apparel and Merchandise | MLB Baseball Apparel and Merchandise | NBA Basketball Apparel and Merchandise | NHL Hockey Apparel and Merchandise | College Fan Apparel and Merchandise | Other Sports Fan Apparel and Merchandise | Fathead | Sports Tickets |
---
Return to Home Page
About Us | Contact Us | Site Search | Advertise | Terms of Use / Privacy Policy |
---