Best All-Time College Football Program


Few topics fire up strong opinions like the debate over which college has the best all-time college football program. Let's settle the issue here and now. Drum roll please…the answer is…USC!!
That's right, the University of Southern California Trojans are the greatest college football program in the history of the NCAA. Here's why:
For starters, the Trojans have been playing as a college football team since 1888. Yes! That is not a typo! 1888! They are the oldest college football program in the nation.
The first game the USC Trojans ever played was on November 14th, 1888. They did not play it as the Trojans however. The team was not aware of its upcoming moniker. At the time, they were known as the USC Methodists.
Their first opponents were the Alliance Athletic Club. The Alliance Athletic Club got themselves a sound 16-0 whopping. Arthur Carroll who also contributed by making the team's uniform pants and served as tailor, quarterbacked the team. It would be interesting to see a modern day NCAA quarterback go to such lengths.
In 1893 the USC Methodists went on to join the Intercollegiate Football Association of Southern California. At this point in the team's history the USC Methodists were sometimes referred to as the Wesleyans. USC's team name was changed to the Trojans in 1912.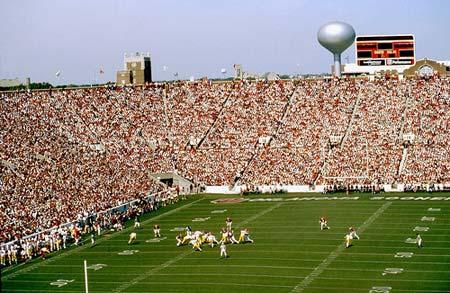 Oklahoma Sooners vs. the USC Trojans Sept. 25 1982. The Sooners lost 12 to 0. Owen Field Norman Oklahoma. Thanks to flickr.com for the picture. Source: duggar11
---
USC has won 17 NCAA football National Championships.


The only other schools that compare with USC's football history are Notre Dame (21) and Alabama (17).
[Note: these numbers are controversial because it all depends on which polls you count and prior to the BCS there were multiple national champions virtually every year – based on different polls. Also, I've excluded Princeton and Yale, each has even more NC's – but they all come from an early era where they simply dominated the few schools that played football at all. Here's the source we used for NCAA recognized college football national championships.]
The reason we pick USC as the #1 college football program in history is because of where they are now and will likely be in the future.
USC is the now the modern day juggernaut for college football. While the SEC has admittedly been able to show its football strength in recent years, when it comes to coaches opinions around bowl season they all say the same thing. "I'm glad we're not playing USC." And there's plenty of reason for saying that.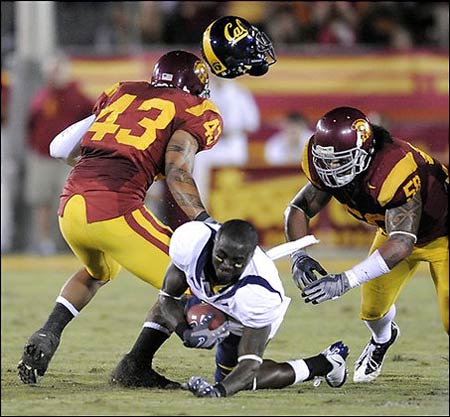 California's wide receiver Nyan Boateng loses his helmet after being hit by Southern California's linebacker Kaluka Maiava, left, and linebacker Rey Maualuga during the first half of a NCAA college football game in Los Angeles, Saturday, Nov. 8, 2008. Thanks to flickr.com for the picture. Source: avinashkunnath
---
With a stable of great starting running backs year after year, top-notch quarterbacks and an improving defense with each new class, there is nothing but fear when it comes to Pete Carrol's squad.
Back in 2001, when Pete Carroll took the helms of the USC football program, he brought forth a winning mentality and a resolve unmatched by other college coaches. Since his arrival, Pete has garnered a 84.4% winning percentage, a pair of national championships (03-04), 6 straight BCS bowl games and finished top 4 of the AP poll 6 straight times. No other current college football program comes close.
Additionally, USC is the only school to have three Heisman trophy winners in a four-year span. Wow, talk about gaudy numbers huh? And the USC machine keeps rolling with top-5 recruiting classes year after year.
The only fault of the Trojans is that they know just how good they are and occasionally underestimate their opponents. Their only losses seem to come from nothing programs having a great day while it seems like USC just woke up and showed up. Clutch situations against worthy opponents overwhelmingly end the same way - another Trojan pounding.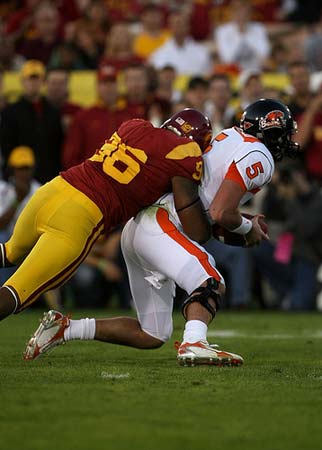 Quarterback Sean Canfield #5 of the Oregon State Beavers is sacked by defensive end Lawrence Jackson #96 of the USC Trojans on November 3, 2007 at the Los Angeles Coliseum in Los Angeles, California. USC won 24-3. Thanks to flickr.com for the picture. Source: avinashkunnath
---
Look at Penn State in last year's 2009 Rose Bowl. Was there any game with a bigger spread going into it? And this is talking about the Big-10 conference winner - not a shabby squad at all. Remember last season (2008) when they held an Arizona State team scoreless who before the season began was listed in the top 15 in the nation.
The concept of holding ANY team scoreless in modern day college football is nearly unheard of but the Trojans did it on 3 separate occasions. 8 of their 12 victories came while giving up less than 10 points (and 2 of the remaining 4 were 10 exactly).
Even with rising conference opponents like the Cal Golden Bears with their Heisman candidate Jahvid Best and the always difficult Oregon Ducks and rising programs in Stanford (though the past couple years were indeed rough) and both Arizona schools, the Trojans will remain dominant in the Pac-10 for a long time to come due to excellent recruiting and coaching.
USC Trojans Football. Thanks to flickr.com for the picture. Source: Tammy Manet
---
Did you see the 2009 NFL draft class? 11 USC players drafted. That's an entire side of their team! The SEC's signature team is Florida and for 2009 they will be a tough team to beat. However, any team returning 11 starters has that advantage. Now take USC who had to replace nearly the entire defense, rearrange its offensive line, replace their quarterback, and you still see a team that is pre-season ranked in the top 5 by nearly everyone. Take away Percy Harvin and Big Timmy and do you think Florida gets that kind of respect?
So, in summary, there really are only 3 or 4 programs that can be considered as possibly the top college football program in history. Those are Notre Dame, Alabama, Michigan (see link to c2 below) and USC. And when you compare the current strength of these programs – USC clearly stands above the rest.
That's why we pick the USC Trojans as the best-all-time college football program.

But, will the arguably unfairly harsh USC sanctions change the Trojans' status as the top college football program?

Check out this article arguing that Alabama is the best all time college football program.

Which is the top all-time College Football Team? Simple, the Michigan Wolverines. After all, they have the most wins of any team. Here's our Top All Time College Football Team.
What do you think?

We'd love to hear your comments and/or opinions. If you submit them here, other visitors can read them, rate them and comment on them. An e-mail address is not required.


What Other Visitors Have Said
Click below to see contributions from other visitors to this page...

---
Best All Time College Football Player
|
Best All Time College Football Coach
|
Best All Time College Football Conference
|
Most Underrated College Football Conference
|
Best All Time College Football Cornerback
|
Best All Time College Football Fans
|
Best All Time College Football Linebacker
|
Best All Time College Football Revalry
|
Best All Time College Football Stadium
|
Best College Football Quarterback
|
---
From Best All Time College Football Program to NCAA Football History | Best All Time Sports Blog | History of Professional Football | MLB History | History of NBA | History of Hockey | NCAA Basketball History | NCAA Baseball History | History of College Sports | Olympic Sports History | History of All Sports | Best Moments in Sports History | Worst All Time Sports Moment | Current Best All Time Sports News | NFL Football Apparel and Merchandise | MLB Baseball Apparel and Merchandise | NBA Basketball Apparel and Merchandise | NHL Hockey Apparel and Merchandise | College Fan Apparel and Merchandise | Other Sports Fan Apparel and Merchandise | Fathead | Sports Tickets |
---
Return to Home Page
About Us | Contact Us | Site Search | Advertise | Terms of Use / Privacy Policy |
---