Wondering which baseball blogs are worth your time? Here's a list of our "Best Baseball Blogs."
Sports Blog Net
Sportsblognet.com is a top blogging platform for sports enthusiasts. Though you will find a number of sports covered over there, I personally was impressed with their posts on Major League Baseball (MLB). The baseball blogs are written by passionate baseball followers who dissect each and every event in the world of baseball. You can submit your own comments or even start your own blog at the site. This is a great tool to let other baseball fans know about your own views and opinions.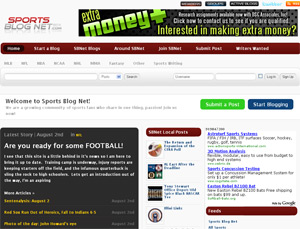 http://sportsblognet.com/
Yankees Baseball Blog
For New York Yankees fans this is a place to look out for. The blog is regularly updated with Yankees news. The blog is a comprehensive resource for a lot of information including information on players, game analysis, news from the training camps and lot more.
Check it out, you will love it.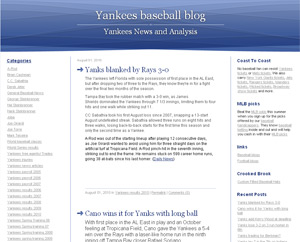 http://yankeesbaseballblog.com/
In Scoring Position
This is one cool baseball blog, but mind you, it's mandatory that you wear your humor hat before getting on with the posts. The blog is an easy read and will tickle you time and again. If you are a soul who gets offended easily then you may let go of this one, but if you are not then I can promise a good time reading the posts here. Check them out and you'll see what I mean!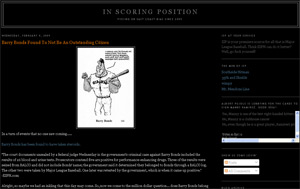 http://inscoringposition.blogspot.com/
Mets Baseball Blog
Are you a New York Mets fan? If so then this blog is a good read for you. The blog is dedicated to NY Mets news. The articles are tastefully presented. The blog provides information on schedules and results among other Mets information. You can go back in time with this blog and read stories from the training sessions of the Mets.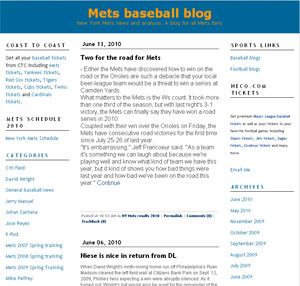 http://www.metsbaseballblog.com/
The View from Dugout
If you prefer quality over quantity then "The View from Dugout" is a blog that you will admire a lot. It does not really focus on each and every happening in the baseball arena. It's not a relentless news machine that goes on reporting spree talking about every other incident happening on the ground. Rather the blog is a combination of unique, interesting and insightful stories that form a wonderful concoction to give you a good time. The articles in this blog are to be consumed in leisure. I absolutely loved the work by Hans and Jeff and hope you will like it as well.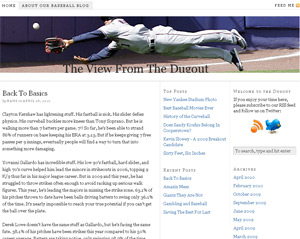 http://theviewfromthedugout.com/
Razzball
Razzball is all about fantasy baseball advice and you should be prepared to take that with a pinch of salt. The website features first hand fantasy football data that you can make use of. It has a very active forum of more than one thousand users. Commentary on over-hyped players, team standings and failures and shortcomings in fantasy baseball are all written in good humor (or so I felt).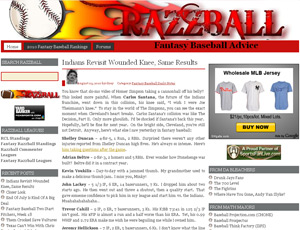 http://razzball.com/
Fannation
If you want any information regarding baseball teams and players and just have one website to visit then this is the one to choose. The website is a mega store of most of the up to date information available on the internet pertaining to any baseball player. The site behaves as an aggregator that scans and filters all the available information for enthusiasts. If you are big time into fantasy baseball, you will find the information very useful.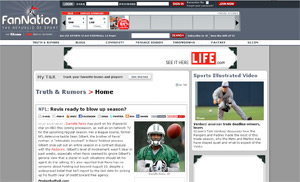 http://www.fannation.com/
Baseball America
Baseballamerica.com covers baseball at almost all levels. The blog is in business since 1999 and is backed by a full-fledged media outfit. The company has a well established print magazine as well that has carved a niche for itself over the years. You will find very good articles covering high school baseball, college baseball, minor and major league baseball. One drawback is most of the content is for subscribers. However if you subscribe to the print magazine then you can access all content of the website.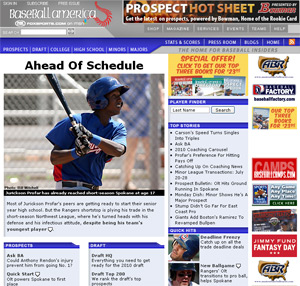 http://www.baseballamerica.com
Baseballfactory.com
This fun sports blog creates an interesting read for anyone interested in a variety of writings on baseball. The site is easy to access, blogs are well written and the articles come from a variety of writers. The blog has a reputation of providing the best of instruction for tournaments and competitions. It also plays an active role in college planning and placement for high school players looking forward to playing college ball. The guidance provided by Baseballfactory to budding players, parents, high school and college baseball coaches and professional scouts is very well respected. Head onto their website to have a look at all that they have to offer.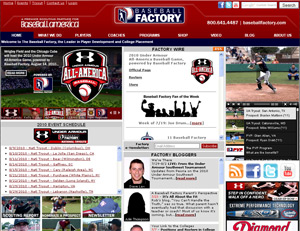 http://www.baseballfactory.com
Baseball Analysts
I am very impressed with this blog which is like the Wikipedia of baseball with all its facts, figures and analysis. The blog features in depth study and detailed analysis of baseball games, teams, trends and players. The site contains insight from a number of experts in their field and they also cover the minor league.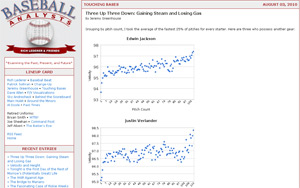 http://baseballanalysts.com
Rays Index
This is an independent blog that posts about The Tampa Bay Rays club and the associated affiliates from the minor league. Cork Gaines is the mind behind this very highly active blog on the Rays. The blog specializes in providing the latest news and analysis pertaining to the Rays. You will love Cork's writing style. I had a good time reading it and am sure you will enjoy it a lot.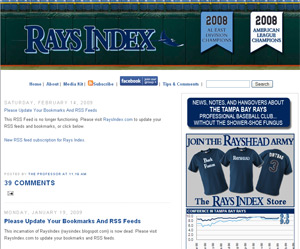 http://raysindex.blogspot.com
Truegrich
This is a personal blog maintained by James, an eternal Los Angeles Angels fan. This guy is crazy about the Angels; you will know that as soon as you visit his blog. According to him his wife, their cat, the birds eating out of his feeders are all Angels fans. Now I am sure the Los Angeles Angels fans will love being here as you will find familiar territory that you'll enjoy. I enjoyed the humor James sprinkles in his posts and especially the ones that forced me to think by their sheer analytical brilliance.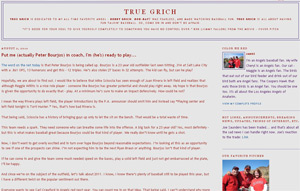 http://truegrich.blogspot.com
Cleveland Indians
This blog is an up-to-date resource on the Cleveland Indians. It covers the Indians regularly and keeps readers updated on the latest happenings. You will pick up gossip here and there, which combined with the tid-bits of spicy information about the Indians makes this blog an interesting read.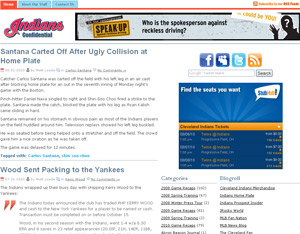 http://www.indiansconfidential.com
Minor League Baseball
Minor League Baseball is the blog for you if you're looking for a great Minor League Baseball Blog. Obviously, there's lot's of hype surrounding Major League Baseball, but for my entertainment dollar, nothing beats Minor League Baseball. However there are way more blogs that cover the MLB news as compared to ones that cover the stories from the Minor Leagues. Minorleagueball.com portrays the news, views and reviews of various aspects of Minor's. It covers most of the teams in the Minor Leagues and has been around for quite a while. The fact that it is a part of the SB Nation Network of sports blogs lends it additional credibility and makes it an important resource for authentic Minor League news.
Helpful Baseball Drills
Improve your play with our special free tips. We have different baseball drills for every age group. We are new and we are growing. Take a look around inside.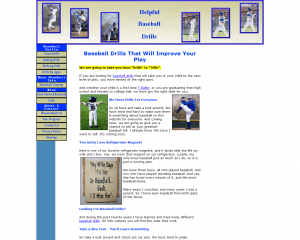 http://www.helpful-baseball-drills.com
A similar site you might like is 2 Create a Baseball Player.