Best Football Blogs

Football has passed baseball as the Great American Past-time. Actually, everyone in the world would agree with that. But, those outside of the United States have a different definition of "football" (the soccer variety).
Anyway, football fans tend to be fanatic about the sport and always searching for more and better information. I know I'm constantly looking for the
best football blogs
and below is a list of my favorites.
sportschatplace.com
Sportschatplace is a platform for fans of various sports to get together and share their thoughts and views on different aspects of their favorite games. I found the football section to be very comprehensive and interesting. The website boasts of a diversified set of passionate writers who cover almost every aspect of the game. Irrespective of what you are looking for you will find something that will entertain and inform you. The forums are an amazing place, busy with well informed fans sharing their views on the games latest happenings.
Sports Illustrated
"Sports illustrated" is not an unknown name among sports freaks like us. This blog by Stewart Mandel is a powerhouse of information when it comes to college football. Stewart is a very well informed blogger who shares his insightful analysis in a no nonsense manner. You can update yourself on the latest scores, information on conferences, team players, rankings, standings and schedules right there on the website. This is one resource worth bookmarking for college football fans.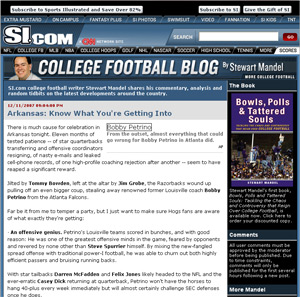 http://sportsillustrated.cnn.com/si_blogs/football/ncaa/2007/12/arkansas-know-what-youre-getting-into.html
fantasyfootballfools.com
Football fans are no more limited to the actual football grounds. Most of them want to call shots with their own fantasy football teams. This blog is written for such fantasy football fans. You will get to strategize for your team and get in the culture that is existent in real life football teams into it. The website is a cool destination for fantasy football aficionados. Jacob Sloan, the founder of the blog has done a tremendous job in catching up with the imagination of thousands of fans across the country.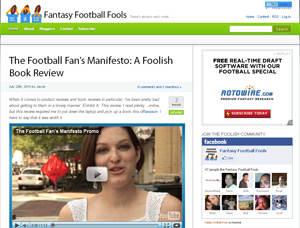 http://www.fantasyfootballfools.com/
broncotalk.net
Started by Kyle in the year 2007 this blog has become one of the most respected source of information on Denver Broncos. Kyle and his team of bloggers are extremely passionate about the team and their love for Bronco's is visible on this blog. The blog is designed to be powered by fans, meaning you as a Bronco's fan can share your insight with the world through broncostalk.com.
Want to check the Bronco's schedule? You know where to go, don't you?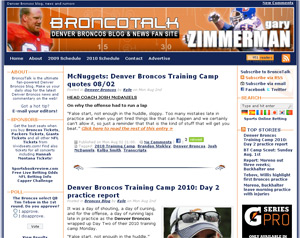 http://broncotalk.net/
broncosfreaks.com
Boncosfreaks.com is another wonderful online resource on Denver Broncos. The website boasts of a hyperactive community of energetic fans. The forums on the site have about 2225 ardent Broncos fans. The activity in the forums can be gauged from the fact that there are about 406206 posts in 17636 posts. A paradise for you to meet your fellow team fans!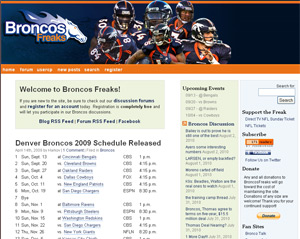 http://broncosfreaks.com/
College Football News (CFN)
As the name suggests this blog is all about quality college football news. The blog is regularly updated with insightful articles, predictions, teams and players' information, recruitment news and regular polls to let the audience have a say. You will even find a chat room here to communicate with other college football fans. Overall this is a pretty cool place to hang out at for college football lovers.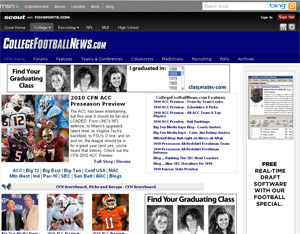 http://cfn.scout.com/
Takkle Blog
Takkle is a blog that caters to an audience inclined towards high school sports. It features interviews with athletes and coaches. Though it is a general blog for all sports, it does have quite a few posts on football. I liked the look and feel of the blog which is relatively simple, but do not let that mislead you, because the content in the posts is really good. Folks at Takkle know what they are doing and I suggest you join them to have your regular dose of high school sports information.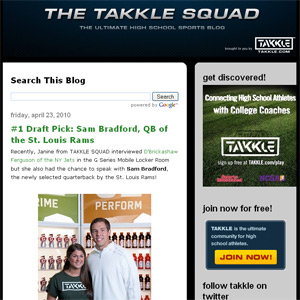 http://blog.takkle.com/
Fantasy Football Goat
If fantasy football is what gets you excited then I am sure you will love this blog site dedicated to the game. The blogger is a veteran and has been in the game for more than 17 years. Wouldn't it be great to have a piece of his mind to help you make your decisions in the fantasy football league? Well you can, just visit his site, subscribe to the newsletter and I am sure you will get a lot of knowledge from this veteran blogger.
In case you are curious I don't really know why he put "goat" in his website name. Think will shoot him an email right away.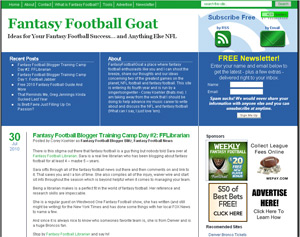 Juiced Sports Blog
And you thought most bloggers play it safe! Nah! Not really when you are talking of the folks at juicedsportsblog.com. Mitch Blatt and Scott Jacobs do not mince words when it comes to commenting. Calling a spade a spade is the mantra and that message is quite clear in the way the founders describe this blog. In their words the blog is rough around the edges and controversial. The celebrated sports bloggers of juicedsportsblog.com have quite an appetite for controversies. This is one blog you should not miss.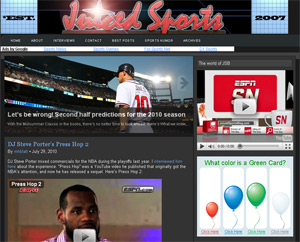 http://juicedsportsblog.com/
South Eastern Sports Blog
This is a good quality sports blog that covers Tennessee Athletics, SEC and college football and a little bit of this and that. The contributors Jeff Wright and Will Shelton have done a good job of turning a hobby blog to one of the trusted source of college football information online. I believe the blog is not becoming a part of Rocky Top Talk, which in my opinion is a good move from the fans' perspective given the high quality of information available on both the blogs.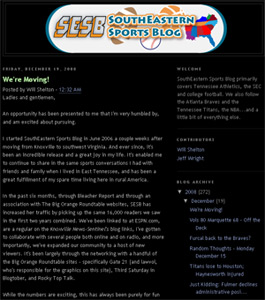 http://southeasternsportsblog.blogspot.com/
CBS Sports
Cbssports.com is one of the most comprehensive resources on college and professional football. The editorial team does a great job in collating humongous amount of information into thought provoking interesting reads. You name anything related to NFL and college football chances are it exists on CBS. Player and team details, injury, transactions, standings, schedules, scores, interviews, videos, tickets and fantasy news; you name it you have it.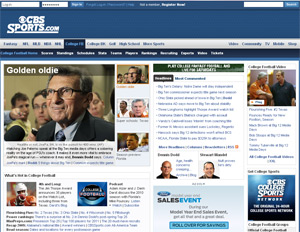 http://www.cbssports.com/collegefootball
SEC Football Blogger
Ethan Jaynes is a huge SEC football fan and he shares his insights through his blog and this squidoo lens on South Eastern Sports. The lens contains good information and gives an idea about the passion of Ethan for SEC football stuff. In case you wish to get regular updates from Ethan then do subscribe to the RSS feed.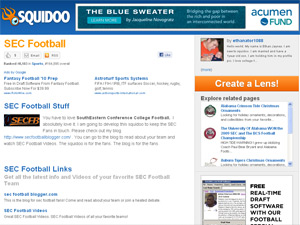 Auburn Tiger's Blog
This is a blog dedicated to the Auburn Tigers, brought to you by SB Nation. If you are a Tigers fan then this will be your go to point for statistics and information related to the Auburn Tigers. I love the way all that information is organized in this blog. There is a lot of scope for you to be heard; Check there "Fanposts" and "Fanshots" sections.
http://www.trackemtigers.com/
Bleacher Report
I have saved the best for the last. Bleacher report is an authority when it comes to sports related blogs. You will find your sport covered in details on this blog. The football enthusiast in you will find enough articles to whet your appetite. The content in the blog is very well organized and you can track articles by the type. Some interesting categories include "opinion", "prediction", "game recap", "history" and "rumors".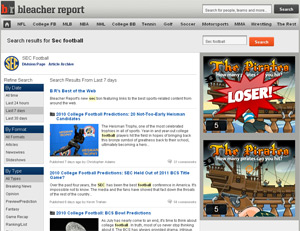 http://bleacherreport.com/articles?query=Sec+football
Post Game Pub
Let's admit it! The real fan in you will never let go of the feelings about the game you just witnessed. We all love discussing a game long after that is over.
More often than not the emotions get the better of us and we express ourselves, least concerned about the people around us. If they happen to be ones not interested in the sport then we are inviting trouble.
If you can relate to whatever I said above then you will love what postgamepub.com has to offer. It's one of the best football blogs around. It has a lively community of football enthusiasts who like you are eager to discuss anything remotely related to football. Check them out!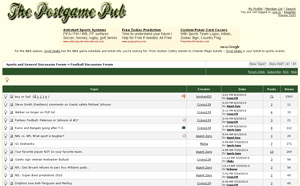 http://www.postgamepub.com/zeroforum?id=16
What do you think?

We'd love to hear your comments and/or opinions. If you submit them here, other visitors can read them, rate them and comment on them. An e-mail address is not required.


---
Best Baseball Blogs | Best Basketball Blogs | Best Hockey Blogs |
---
From Best Football Blogs to Best Sports Blogs | Best All Time Sports Blog | History of Professional Football | MLB History | History of NBA | History of Hockey | NCAA Football History | NCAA Basketball History | NCAA Baseball History | Small College Football History | History of College Sports | Olympic Sports History | History of All Sports | Best Moments in Sports History | Worst All Time Sports Moment | Current Best All Time Sports News | Best Sports Forum | NFL Football Apparel and Merchandise | MLB Baseball Apparel and Merchandise | NBA Basketball Apparel and Merchandise | NHL Hockey Apparel and Merchandise | College Fan Apparel and Merchandise | Small College Sports Apparel and Merchandise | Other Sports Fan Apparel and Merchandise | Best Sports Gifts | Fathead | Sports Tickets |
---
Home Page

About Us | Contact Us | Site Search | Advertise | Terms of Use |
---