Best College Sports Town


Any town that has a college tends to be supportive of the college sports teams, which makes it really hard to choose the best college sports town. But when it comes to spirit and support the Virginia Tech Hokies have definitely got their town involved. More than involved, they are fanatical about their support for the Hokies. This makes Blacksburg, Virginia the best college sports town in America.
With a full round of sports available for fans to watch the Hokies give year-round entertainment to their fans and the community. Baseball, men's and women's basketball, cross country, football, golf, lacrosse, men's and women's soccer, softball, swimming and diving, men's and women's tennis, track and field, volleyball, wrestling and spirit programs provide entertainment for members of the community, alumni and students. With their state of the art campus and stadium as well as many lovely historical sites on campus Tech offers something for everyone. The Virginia Tech marching band, band boosters and sports club boosters all provide many different activities, carnivals, parties, fundraisers, and even auctions to help support the school.

The thing about Blacksburg is it's a small town. That means Virginia Tech (and its sports; especially football) is the biggest thing in town. The entire community gets involved with Hokie sports whether simply showing up to the games or providing support by hosting fundraisers, making donations or offering discounts to people who travel in to see Tech sports events.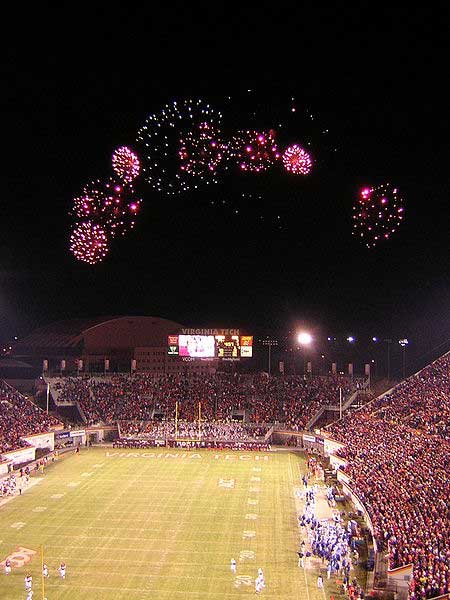 Fireworks over Virginia Tech's Lane Stadium at the 2005 game between the University of North Carolina and Virginia Tech. Thanks to wikipedia.org for the picture.
---

Football is the big sport at Va Tech of course. Everyone knows the coach, Frank Beamer, and the "Beamer Ball" brand of football he brought to Blacksburg [think defense and special teams]. To be the best college sports town in America, you would have to have a big football program -- since football is the top college fan sport in the nation.
The community of Blacksburg, Virginia, where Virginia Tech is located is a very college-friendly town. There are many hotels, bed and breakfasts, student discounts, alumnae discounts, and many specials and activities in conjunction with Virginia Tech sports. There are tours of Virginia Tech, which will introduce visitors to all different aspects of the education and sports available at this school, as well as some tours into the surrounding areas and tourist events.

The fact that Tech is located in rural western Virginia, means that you'll experience true Southern charm and hospitality in a gorgeous location where, within minutes, you can be far out of town or right in the center of town with all the amenities. Located right off of Interstate 81, Blacksburg has several local tourist attractions, as well as Virginia Tech itself and all that it has to offer. While you're in the area it is a short drive to Lexington, Virginia, which is the horse capital of Virginia, or to the Natural Bridge area Claytor Lake and the mountains. You can find skydiving, hang gliding, bungee jumping and other extreme sports in many locations around Virginia Tech.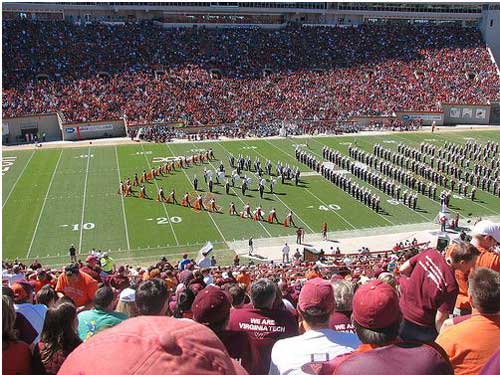 Virginia Tech Football 2007. Thanks to Big Ed's Photos on flickr.com for the picture.
---

So if you're looking to attend a college football game; a Virginia Tech Hokies home game would be a good choice. Not only will you get to watch the Hokies do their thing, which each and every team at Virginia Tech does very well. But you also get to see the leaves change in the fall; trees bloom in the spring, experience the heat and humidity of summer and try to avoid the snow in the winter. Virginia is a four seasons date, and each of them has their pros and cons for each person. As long as you're entertained by a Hokies sporting event you probably won't be too worried about what the weather is.

Enjoy Blacksburg and Go Hokies!
What do you think?

We'd love to hear your comments and/or opinions. If you submit them here, other visitors can read them, rate them and comment on them. An e-mail address is not required.


---
Best All Time College Sports Conference
|
Best Sports College
|
Best College Sports Fans
|
Best All Time College Hockey Scorer
|
Best All Time College Hockey Arena
|
---
From Best College Sports Town to History of College Sports | Best All Time Sports Blog | History of Professional Football | MLB History | History of NBA | History of Hockey | NCAA Football History | NCAA Basketball History | NCAA Baseball History | Olympic Sports History | History of All Sports | Best Moments in Sports History | Worst All Time Sports Moment | Current Best All Time Sports News | NFL Football Apparel and Merchandise | MLB Baseball Apparel and Merchandise | NBA Basketball Apparel and Merchandise | NHL Hockey Apparel and Merchandise | College Fan Apparel and Merchandise | Other Sports Fan Apparel and Merchandise | Fathead | Sports Tickets |
---
Return to Home Page
About Us | Contact Us | Site Search | Advertise | Terms of Use / Privacy Policy |
---