Best All-Time College Sports Conference

The PAC-10 is the Best All-Time College Sports Conference. When you consider all sports, it's really not even close. Once you get past the major sports (football, basketball and baseball, the PAC-10 is clearly #1 in most of the other sports.
Let's look at the SEC first. The SEC has had an incredible history. It has been home to 7 national championships in football alone in the past 20 years. This is an incredible figure. If we look at the past 3 years alone, we have seen Florida, LSU, and Florida bring home BCS titles. Let's forget about football for a minute, even though it's what funds most of the Athletic programs at these big time schools, and we will take a look at every other sport within each conference. The SEC is home to roughly 167 National Championships excluding football. This includes sports such as, M/W Basketball, baseball, softball, m/w soccer, m/w indoor track and field, m/w outdoor track and field, bowling, equestrian, lacrosse, m/w volleyball, swimming, diving, golf, tennis, cross country, gymnastics.

Arkansas and LSU lead the SEC in total NCAA National Championship wins with 41 each and Georgia coming in at 3rd with 26 titles. Arkansas however had 17 titles prior to joining the SEC, but we will count them all in this case. After hearing these staggering numbers you may think and believe that the SEC deserves to be the best conference of all time.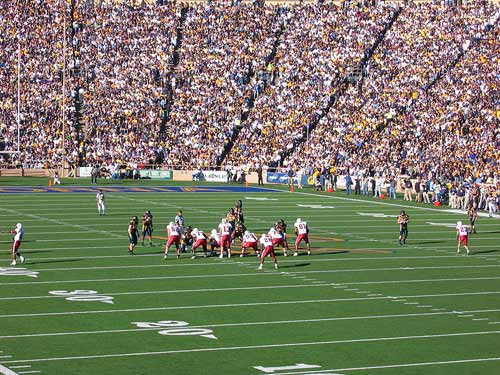 Big Game, 2004 between Cal and Stanford. Thanks to Poppy on wikipedia.org for the picture.
---

But when you compare these statistics to the PAC-10, the SEC stands far off in the distance and does not even compare. This past college athletics year alone, that means the 07-08 school year, we have Arizona State, Stanford, and UCLA topping the charts with a total of 6 National Titles. That's almost unheard of. Three PAC 10 schools lead the rest of the Nation in Titles for the past year. WOW!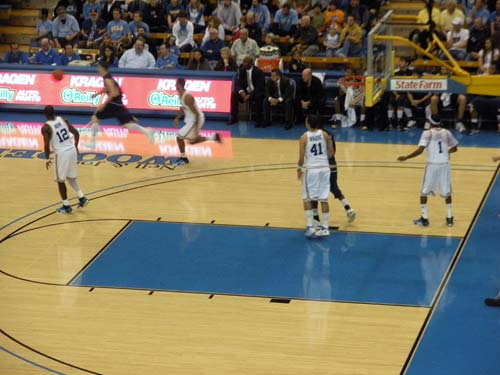 UCLA Bruins vs. FIU basketball at Pauley Pavilion, Nov. 29, 2008. Thanks to Ucla90024 on wikipedia.org for the picture.
---

But wait, it gets even better. Washington State has only had a measly 2 National Titles in school history. There are 4 SEC schools with 1 or less. This includes Vanderbilt with 1, South Carolina with 1, and Ole Miss and Miss State with 0.

The next team on the bottom of the list for the PAC 10 is Oregon State with only 3 titles. That's still more than those 4 teams combined. I don't even want to mention UCLA because my argument wouldn't even be fair, when you see that they have 104 National Championship Titles, one may finally start to think that the PAC 10 needs credit where credit is due in regards to the ALL TIME BEST college sports conference.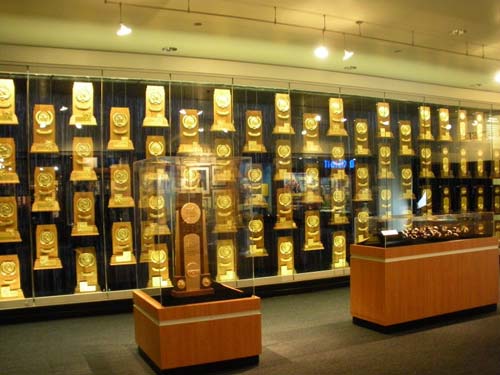 NCAA National Championship trophies, rings, watches won by Pac-10 teams. Thanks to Ucla90024 on wikipedia.org for the picture.
---

The PAC 10 as a whole has roughly 367 NCAA National Championship titles in all sports combined. I would love to see a conference with better statistics, but it's just not possible. If we look during the 07-08 seasons we will see that only 4 SEC schools recorded a National Title, however there were 7 PAC 10 schools that recorded a title. I rest my case.

The top NCAA college athletic conference in America is clearly the Pac-10.
What do you think?

We'd love to hear your comments and/or opinions. If you submit them here, other visitors can read them, rate them and comment on them. An e-mail address is not required.



What Other Visitors Have Said
Click below to see contributions from other visitors to this page...

---
Best Sports College
|
Best College Sports Fans
|
Best College Sports Town
|
Best All Time College Hockey Scorer
|
Best All Time College Hockey Arena
|
---
From Best All Time College Sports Conference to History of College Sports | Best All Time Sports Blog | History of Professional Football | MLB History | History of NBA | History of Hockey | NCAA Football History | NCAA Basketball History | NCAA Baseball History | Olympic Sports History | History of All Sports | Best Moments in Sports History | Worst All Time Sports Moment | Current Best All Time Sports News | NFL Football Apparel and Merchandise | MLB Baseball Apparel and Merchandise | NBA Basketball Apparel and Merchandise | NHL Hockey Apparel and Merchandise | College Fan Apparel and Merchandise | Other Sports Fan Apparel and Merchandise | Fathead | Sports Tickets |
---
Return to Home Page
About Us | Contact Us | Site Search | Advertise | Terms of Use / Privacy Policy |
---