Best Sports College


After looking at the 2008 final stats of the top 25 colleges in five categories I came up with a beginning list of six colleges.  I should have quit while I was ahead, but I was not convinced that any candidate on my list was the best choice as the best sports college in the United States.

There were blogs and articles galore with what seemed like logical picks by the person or group that was doing the picking.  It seemed to me that there was no clear answer to the question of which is the overall top sports college. 
I continued to search the web and found a Sports Illustrated site that listed their picks of the top twenty-five colleges for sports programs.  They had devised their own scoring system to come up with their picks of the top twenty-five best sports colleges.  They used the three categories of national titles, top thirty finishes, and conference championships to drive their picks.  Those categories were worked across eleven men's sports and eleven women's sports.

They made a determined effort to balance the scales to make allowances for regional biases.  I took the top twenty-five colleges on their list and compared it to my list.  Four of the top six teams from my list were on their list.  My top pick of Texas A&M was eleventh on their list.  Their second ranking team was the same as my second ranking team, Stanford.  Their top pick, Arizona State, didn't make my list at all.  All this work and there was still no clear-cut answer to selecting the best sports college.

My decision was further hampered by the coach's picks, ESPN picks, announcer's picks, etc.  With 330 Division I schools in the United States it is nearly impossible to pick one school for this honor.  I feel like the Fruit of the Loom guys trying to make a consensus on the combination of fruits to make up the label. 

After juggling apples, oranges, bananas, and grapes, I finally decided on Stanford University.  It was a tough call and, for me, I finally just decided that it had by far the best academic reputation of any of the top sports colleges -- so why not let that be the tie-breaker? Good as any other method.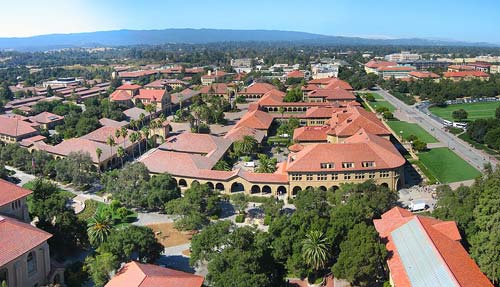 Stanford University campus from above. Thanks to Jawed on wikipedia.org for the picture.
---

Since the university is located in Palo Alto, California, they have the near perfect weather conditions conducive to any sport that is available.  The list is impressive and includes sports for men and women as well as co-ed sport's teams.  The major sports of baseball, basketball, football, golf, swimming, wrestling and hockey are available as well as some lesser choices which include fencing, lacrosse, rowing, sailing, water polo and squash.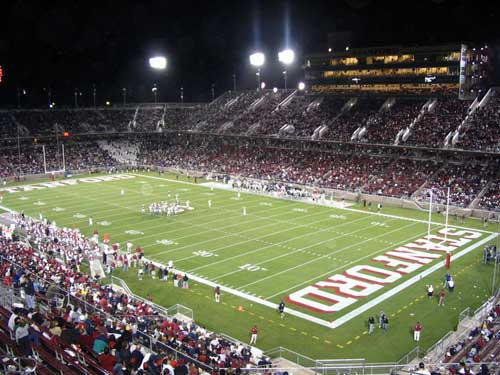 The new Stanford Stadium, site of home football games. Thanks to wikipedia.org for the picture.
---

Stanford excels in the sports that are not as popular or followed by as many fans; but obviously still count with those who play them. Cross-County is a good example of such a sport which Stanford won the 2007-2008 Women's National Championship in. That same year Stanford also won the Pac-10's conference titles in women's gymnastics; women's volleyball (finished second to Penn State in the NCAA tournament); women's basketball and women's tennis (co-conference champions). Obviously Stanford dominates womens college sports!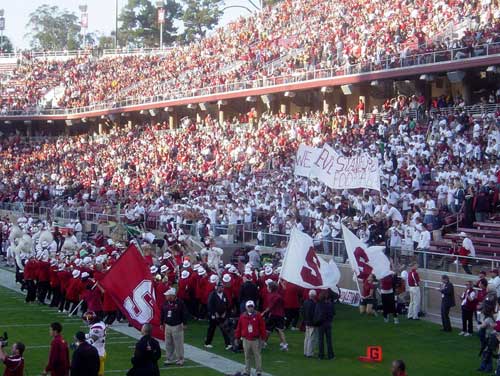 The Stanford Band rallying fans at Stanford Stadium. Thanks to Bobak on wikipedia.org for the picture.
---

Many of you are saying I must be out of my mind to pick Stanford as the best sports college. If so, you are probably one who thinks sports like football, basketball and baseball should be weighed more heavily in comparing college sports programs. If you did that, you might think that the University of Florida is currently the best sports college. After all, they won the top fan sport last year -- college football's BCS National Championship. And, here's an article supporting that analysis: Best SEC Sports College (though that article limits it to just the SEC).

But, to show you it's not crazy to vote Stanford as the best all-around sports college, here's an article from a well-respected source: Sports Illustrated Picks Stanford #2.

Anyway, which college do you think is the top sports college?
What do you think?

We'd love to hear your comments and/or opinions. If you submit them here, other visitors can read them, rate them and comment on them. An e-mail address is not required.


---
Best All Time College Sports Conference
|
Best College Sports Fans
|
Best College Sports Town
|
Best All Time College Hockey Scorer
|
Best All Time College Hockey Arena
|
---
From Best Sports College to History of College Sports | Best All Time Sports Blog | History of Professional Football | MLB History | History of NBA | History of Hockey | NCAA Football History | NCAA Basketball History | NCAA Baseball History | Olympic Sports History | History of All Sports | Best Moments in Sports History | Worst All Time Sports Moment | Current Best All Time Sports News | NFL Football Apparel and Merchandise | MLB Baseball Apparel and Merchandise | NBA Basketball Apparel and Merchandise | NHL Hockey Apparel and Merchandise | College Fan Apparel and Merchandise | Other Sports Fan Apparel and Merchandise | Fathead | Sports Tickets |
---
Return to Home Page
About Us | Contact Us | Site Search | Advertise | Terms of Use / Privacy Policy |
---