Best Pro Sports City

If you are a sports fan you may wonder what city is the best pro sports city in the U.S. I can answer that for you right now. St. Louis, Missouri is the best pro sports city, and best college sports city in the country. There are so many sports teams in this city that you can find some event to attend during any part of the year. Not only that but St. Louis has female teams as well. So for all of those sports fans that live in cities that just don't have what it takes to be a major sports city, you may want to consider moving to St. Louis!
The title of best sports city is not something I've come up with off the top of my head. St. Louis was actually named the nation's "Best Sports City in 2000 in The Sporting News. Which means this isn't just my opinion it is the opinion of people who have opinions that count when it comes to sports.
In St. Louis you can find the following pro sports teams.
Football- the St. Louis Rams are NFL members who play home games in St. Louis and the RiverCity Rage, which is a National Indoor Football League team.

Baseball- There's a few choices for your all-American sports entertainment. The St. Louis Cardinals who are a Major League Baseball team (and one of the most successful franchises in the history of MLB); the Gateway Grizzlies and the River City Rascals which are Frontier League teams.

Hockey– The NHL St. Louis Blues, and the NAHL St. Louis Bandits are resident hockey teams.

Soccer- the St. Louis Athletica women's professional team, St. Louis Illusion professional arena soccer league both are based in the best sports city.

Basketball- St. Louis Stunners who are members of the ABA.

Last, but not least, the St. Louis Aces tennis team which is a member of the NTL.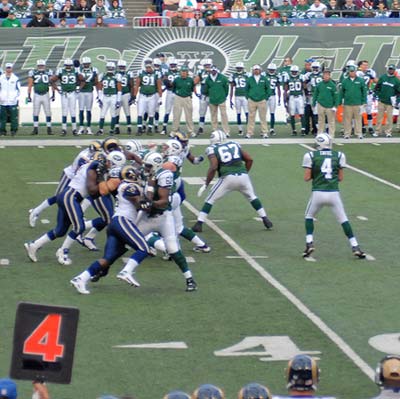 St. Louis Rams vs New York Jets.
Thanks to GMO66 on flickr.com for the picture.
---
Not only is there an abundance of professional teams in St. Louis but there are also numerous colleges in the area, which all have sports teams as well. Pretty much everywhere, a game can be played in St. Louis a game is played by one team or another. So there is no doubt that The Sporting News was correct in 2000 when it bestowed the title of "Best Sports City" and that title remains true today. As in the year 2009, the city of St. Louis played host to both the 2009 men's wrestling championships and the 2009 women's basketball Final Four.
Not only is St. Louis the sports city because of the number of sports it hosts but also because of the number of top-notch venues including Busch Stadium a retro-style ballpark that opened in 2006, and Gateway International Raceway. There are also plans for a major league soccer arena that will be known as the St. Louis Soccer United Stadium. St. Louis is just a great all-American city inthe heart of America. It's the best sports city now and will continue to be so for many years to come, because it will take that long for any other cities to catch up.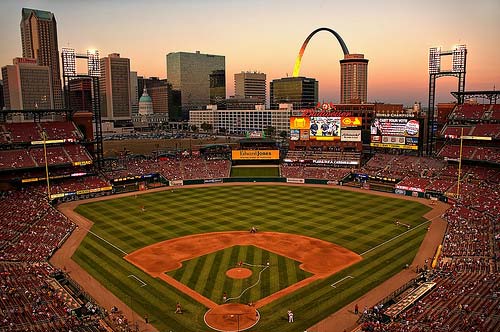 St Louis - Busch Stadium at Sunset.
Thanks to Express Monorail on flickr.com for the picture.
---
What do you think?

We'd love to hear your comments and/or opinions. If you submit them here, other visitors can read them, rate them and comment on them. An e-mail address is not required.


---
Best Sports Bloopers | Best Sports Nicknames | Best Sports Pictures | Best Sports Quotes | Best Pro Sports Team | Best Sports Fans |
---
From Best Pro Sports City to Best Moments in Sports History | Best All Time Sports Blog | History of Professional Football | MLB History | History of NBA | History of Hockey | NCAA Football History | NCAA Basketball History | NCAA Baseball History | Small College Football History | History of College Sports | Olympic Sports History | History of All Sports | Worst All Time Sports Moment | Current Best All Time Sports News | Best Sports Forum | Best Sports Blogs | NFL Football Apparel and Merchandise | MLB Baseball Apparel and Merchandise | NBA Basketball Apparel and Merchandise | NHL Hockey Apparel and Merchandise | College Fan Apparel and Merchandise | Small College Sports Apparel and Merchandise | Other Sports Fan Apparel and Merchandise | Best Sports Gifts | Fathead | Sports Tickets |
---
Home Page

About Us | Contact Us | Site Search | Advertise | Terms of Use |
---