Top 2009- 2010 NBA Rookie


The best rookie player in the NBA this season is Brandon Jennings.


Barring Injury, Jennings will be your rookie of the year. No ifs, ands, or buts about it. Indeed, as a Bulls fan and Derrick Rose lover it is painful for me to appreciate a Buck but the facts leave me no choice.
With Blake Griffin out, he has no real competition at the top of the totem pole. His case is hardly based on a dearth of worthy candidates, however. Jennings will win the Rookie of the Year (ROY) award because his skill set and experience are unparalleled in a first year player. Jennings is small and wafer thin - knocks against him in the pre-draft scouting - but he is more than quick enough to overcome these deficiencies. His ability to get to the basket and score at will (he is scoring 22 ppg on .485 shooting) combined with his deep range (.5 shooting on threes), and penchant for assists (5.5 apg) have led him to put up all star numbers in the early going. Additionally, he possesses excellent court vision and an advanced basketball IQ; traits likely enhanced by a year in Europe.
If you compare these stats to Derrick Rose's ROY numbers: 16.5 ppg on .470 shooting with 6 assists and no threes to speak of, it is clear who this years' frontrunner is. What's more, the Buck's appalling lack of alternative scorers (Michael Redd is constantly injured) and playmakers (Luke Ridnour is his competition) means that Jennings will continue to get the opportunities to maintain these statistics. All signs point to a bright, All Star, future in the NBA for Brandon Jennings.
However, Jennings ultimate basketball legacy, surprisingly enough, may be linked to his pre-NBA European experiment. While Jennings statistics from his year in Rome were pedestrian, playing for a capable professional team clearly increased his basketball IQ, eliminated his behavior issues, and made him a better producer on the floor. Ultimately, if he maintains his current success and runs away with the Rookie of the Year Award, he could change the entire basketball landscape.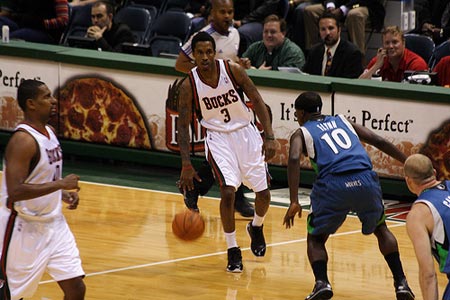 Brandon Jennings at the Bradley Center during a preseason game against Minnesota. Thanks to flickr.com for the picture. Source: Steve Paluch
---
Whereas Jennings was the first top prep star to bolt for Europe and his decision was initially panned, other prep stars watching his current success will likely emulate his actions in droves if the NBA maintains its mandatory one-year-out-of-high-school rule. Brandon Jennings has blazed a new, faster, path to the NBA for high school basketball superstars. That path leads through Europe, rather than college in the U.S.
At this point the implications of Jennings' success are unclear but they could have momentous effects in the very near future.


And, again, no doubt, Brandon Jennings is the top NBA rookie in this 2009 - 2010 season.


This article was written by Paul Grossinger, Guest Columnist, www.best-all-time.com.
What do you think?

We'd love to hear your comments and/or opinions. If you submit them here, other visitors can read them, rate them and comment on them. An e-mail address is not required.


---
Best All Time Professional Basketball Player
|
Best Current Pro Basketball Player
|
Best All Time Pro Basketball Coach
|
Best All Time Pro Basketball Fans
|
Best All Time Pro Basketball Franchise
|
Best All Time Professional Basketball Team
|
Best All Time Pro Basketball Arena
|
Best All Time Boston Celtic
|
---
From Top 2009 2010 NBA Rookie to History of NBA | Best All Time Sports Blog | History of Professional Football | MLB History | History of Hockey | NCAA Football History | NCAA Basketball History | NCAA Baseball History | History of College Sports | Olympic Sports History | History of All Sports | Best Moments in Sports History | Worst All Time Sports Moment | Current Best All Time Sports News | NFL Football Apparel and Merchandise | MLB Baseball Apparel and Merchandise | NBA Basketball Apparel and Merchandise | NHL Hockey Apparel and Merchandise | College Fan Apparel and Merchandise | Other Sports Fan Apparel and Merchandise | Fathead | Sports Tickets |
---
Return to Home Page
About Us | Contact Us | Site Search | Advertise | Terms of Use / Privacy Policy |
---