Best All Time Pro Basketball Coach


Phil Jackson is the best all time pro basketball coach. I believe this first and foremost because he has won more National Basketball Association (NBA) championships than any other coach – 10!! [Red Auerbach is second with 9 championship rings.] Of course there is much more to say about why Jackson is the greatest basketball coach in history.
Phillip D. Jackson is a former American pro basketball player. He is currently the head coach for the LA Lakers. Jackson established a reputation for himself as head coach of the Chicago Bulls from 1989 to 1998. During this tenure, his Chicago Bulls won six NBA titles. His success continued with three consecutive NBA titles won by his next team, the Los Angeles Lakers, from 2000 to 2002. And, finally, winning it all again, with the Lakers, in 2009. So, 10 NBA titles in all as a coach. He also won 2 NBA Championships as a player (1970 and 1973).

Phil Jackson's use of an unconventional new-age coaching approach centered in Eastern philosophy and Native American mysticism earned him the nickname of Zen Master. Perhaps this is where he gets his famous composure from. No professional basketball coach has ever been as composed (overall) as Phil Jackson. He was inducted into the Basketball Hall of Fame as a coach in 2007. Also, Jackson was named one of the top 10 coaches in league history in 1999.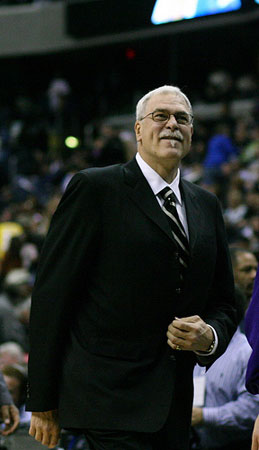 Phil Jackson. Thanks to flickr.com for the picture. Source: Keith Allison
---

Like anyone, though, Phil Jackson has had rough periods as well. Kobe Bryant of the Los Angeles Lakers whom Jackson once labeled as un-coachable and selfish, said: "I don't like Phil as a person, but I love him as a coach."

However, the rough phases like these have always been followed by tremendous successes which naturally smoothed things over. For instance, shortly after the above blow up between Phil and Kobe, the two success-driven men had built a new professional bond. Now Jackson says that Bryant has been "extremely coachable", and Bryant says that he now likes Jackson as a person and as a coach. Bryant also said that he just wanted "to be able to have a great relationship with him. It feels great just to be able to have that."

One critique of Phil Jackson's success is to say that it is more due to the great players he has had playing for him than for his coaching abilities. Yes, he has had great players surrounding him throughout his career. But there are plenty of coaches with great players that don't have as many rings as he does. Jackson is a saavy basketball coach who knows how to construct a dominant basketball team by finding players who are cohesive with each other.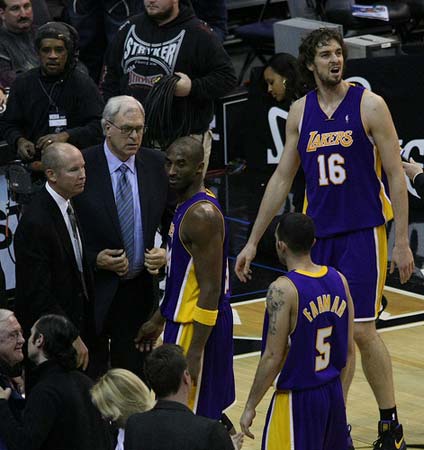 Phil Jackson with Lakers Players. Thanks to flickr.com for the picture. Source: Keith Allison
---

Another reason he is a great coach is simply because of the offense he runs. The triangle offense is extremely complicated. Many players are used to being told where to run and where to pass. The triangle offense is nothing like that. Jackson's offense is just a series of options that each player on the floor reads and then reacts to. This offense is essential to his success because no matter how many films opposing teams watch, if run correctly, the other team won't know what is happening next.

This kind of offense is extremely difficult to teach to players. It is this way because players in the NBA have probably been playing basketball for an extremely long time and the way they have been taught was to just run to a predetermined location then go to the next spot, pass the ball over there, and so on. Jackson's offense is a whole different animal. He has to make his players change everything they thought they knew about the game and buy into a whole different style of play. This takes many, many practices and hours of teaching. Jackson is an incredible teacher who can turn a rookie into a superstar.

My examples of that are Michael Jordan and Kobe Bryant. Yes they are both great athletes but Jackson made them even better. He taught them the importance of leadership and made them team leaders and not just unstoppable scorers.
What do you think?

We'd love to hear your comments and/or opinions. If you submit them here, other visitors can read them, rate them and comment on them. An e-mail address is not required.


What Other Visitors Have Said
Click below to see contributions from other visitors to this page...

Yep, Phil is the Best Ever Not rated yet
With the recent victory of the Los Angeles Lakers in the NBA Finals, Phil Jackson has marked his place as the best NBA coach of all time. No other NBA …
---
Best All Time Professional Basketball Player
|
Best Current Pro Basketball Player
|
Best All Time Pro Basketball Fans
|
Best All Time Pro Basketball Franchise
|
Best All Time Professional Basketball Team
|
Best All Time Pro Basketball Arena
|
Best All Time Boston Celtic
|
Top 2009 2010 NBA Rookie
|
---
From Best All Time Pro Basketball Coach to History of NBA | Best All Time Sports Blog | History of Professional Football | MLB History | History of Hockey | NCAA Football History | NCAA Basketball History | NCAA Baseball History | History of College Sports | Olympic Sports History | History of All Sports | Best Moments in Sports History | Worst All Time Sports Moment | Current Best All Time Sports News | NFL Football Apparel and Merchandise | MLB Baseball Apparel and Merchandise | NBA Basketball Apparel and Merchandise | NHL Hockey Apparel and Merchandise | College Fan Apparel and Merchandise | Other Sports Fan Apparel and Merchandise | Fathead | Sports Tickets |
---
Return to Home Page
About Us | Contact Us | Site Search | Advertise | Terms of Use / Privacy Policy |
---