Best All Time Pro Basketball Scorer


The best all time pro basketball scorer is Kobe Bean Bryant. He has been more consistent than Kareem Abdul-Jabbar; a more pure scorer than Michael Jordan (yes debatable I suppose); and more dominant than Wilt Chamberlain. To my way of thinking, this makes him the top scorer in NBA history.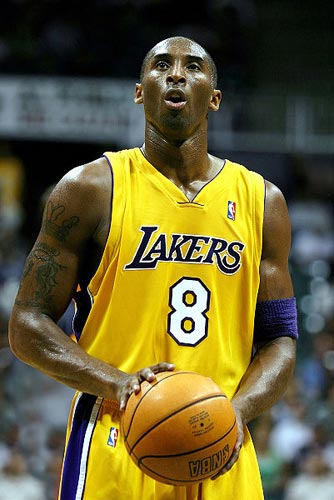 Kobe Bryant, Lakers shooting guard, stands ready to shoot a free throw during Tuesday nights pre-season game against the Golden State Warriors.
Thanks to wikipedia.org for the picture.
---
Kobe plays currently for Los Angeles Lakers in National Basketball Association. He was born in 1978 in a basketball playing family. His family's enthusiasm for basketball could be depicted from the fact that when Bryant was a child, they moved to Italy to play professional basketball. Little Bryant was inspired by this game a lot and also started taking interest in this game.

People get amazed to know that he was only three years old when he started playing basketball!

Little Bryant returned in summer to US for playing summer basketball League. In 1995, he received senior MVP award, and he also led his High school to their first title. During the run he averaged 30.8 points and ended with a total of 2883 points, making him South-Pennsylvania's all time leading scorer. Due to his performance, he received several other awards and at the age of 17, he decided to go directly into NBA.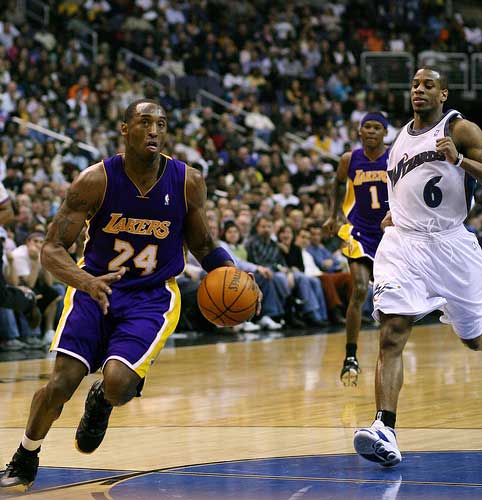 Kobe Bryant of the Los Angeles Lakers drives to the basket against the Washington Wizards in Washington, D.C., USA on February 3, 2007. Bryant scored 50 points or more in four consecutive games. Ten total in the 2006–07 season.
Thanks to Keith Allison at flickr.com for the picture.
---

During his first three seasons from 1996 to 1999, this best all time pro basketball scorer averaged 15.5 minutes a game. He was successful in earning a reputation of a high-flyer and a match winner by winning the 1997 Slam Dunk Contest. At end of 1998 season he averaged 15..4 points per game. The 1999 season was turning point of Bryant's life as he signed a six year contract worth 70 million dollars with Lakers.

Bryant after spending a decade averages 25.1 points per game along with 4.5 assists and 5.1 rebounded. Nearly around same time, Phil Jackson became the coach of Los Angeles Lakers in 1999, and under his leadership Bryant became one of the premier shooting guards in league. Also, the Lakers became championship contenders and won championships with the amazing Kobe - O'Neal combo. And, after Shaq left the Lakers for the Orlando Magic, Kobe Bryant carried the Lakers on his back. And, they still won. That's domination.

Bryant has been selected to the all-NBA team, second team and all-defensive team. His best year may have been in 2007-08, when Bryant won the NBA's Most Valuable Player (MVP) award. Kobe Bryant has it all: exceptional ball handling skills, speed and ability to beat defenders, finishing strong in driving to the hoop, and of course, great shooting ability. All of that combines to make Kobe Bryant the best all time pro basketball scorer.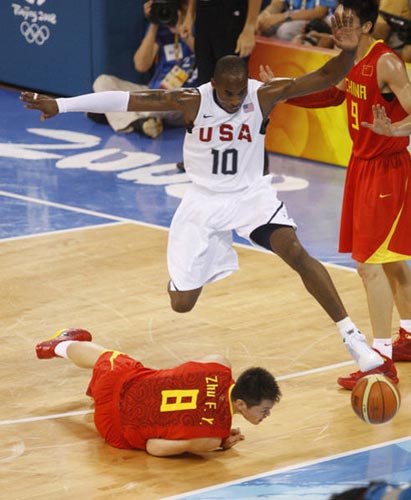 Bryant in a game against China at the 2008 Summer Olympics.
Thanks to wikipedia.org for the picture.
---
What do you think?

We'd love to hear your comments and/or opinions. If you submit them here, other visitors can read them, rate them and comment on them. An e-mail address is not required.


---
Best All Time Professional Basketball Player | Best Current Pro Basketball Player | Best All Time Pro Basketball Coach | Best All Time Pro Basketball Fans | Best All Time Pro Basketball Franchise | Best All Time Professional Basketball Team | Best All Time Pro Basketball Arena | Best All Time Boston Celtic | Top 2009 2010 NBA Rookie |
---
From Best All-Time Pro Basketball Scorer to History of NBA | Best All Time Sports Blog | History of Professional Football | MLB History | History of Hockey | NCAA Football History | NCAA Basketball History | NCAA Baseball History | History of College Sports | Olympic Sports History | History of All Sports | Best Moments in Sports History | Worst All Time Sports Moment | Current Best All Time Sports News | NFL Football Apparel and Merchandise | MLB Baseball Apparel and Merchandise | NBA Basketball Apparel and Merchandise | NHL Hockey Apparel and Merchandise | College Fan Apparel and Merchandise | Other Sports Fan Apparel and Merchandise | Fathead | Sports Tickets |
---
Return to Home Page

About Us | Contact Us | Site Search | Advertise | Terms of Use / Privacy Policy |
---