Best All Time NFL Football Division

The best all time professional football division is the NFC East. The reason is the great rivalries between the teams. What makes great rivalries is first of all great teams, with great histories. And you can't match the NFC East for its history of powerhouse franchises.
The Eastern Division of the National Football Conference (one of two Conferences in the National Football League) is composed of the Philadelphia Eagles, Dallas Cowboys, Washington Redskins, and New York Giants. Wow, each of those franchises has a great history. Each, except the Eagles, has won at least one Superbowl. The Cowboys are arguably the most successful franchise in NFL history. The Redskins and Giants have each had their time in the sun. And, so have the Eagles. The Eagles have never won a Superbowl, but they've been there twice and prior to the Super Bowl the won 3 NFL Championships.
Redskins ready to score. Thanks to flickr.com for the picture. Source: littlerottenrobin
---
Over the years, these 4 NFC East teams have taken a total of 19 combined Super Bowl appearances, with 11 wins - the highest of any division in the NFL. Each of the four teams in the current NFC East has won at least 3 championships since their inception. With the histories of these amazing teams and the intense rivalries such as the Cowboys/Redskins; Giants/Eagles -- this division is the best all time pro football division. The NFC East is generally the toughest division of the NFL mainly due to the rivalries and quality teams.
In the 1990's the NFC East took home 4 consecutive Super Bowl victories – count them – four! The Dallas Cowboys took two with the New York Giants and Washington Redskins each taking one. In fact, NFC East took home 7 out of 10 Super Bowl Victories between 1987 and 1996.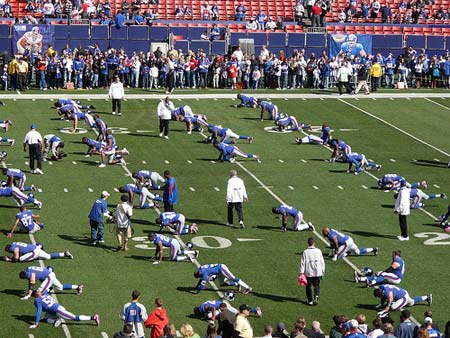 New York Giants stretching before the game. Thanks to flickr.com for the picture.
Source: Marianne O'Leary
---
Okay, so we have the Eagles in this mix-up not ever taking a win in the Super Bowl, but that's okay, it adds a touch of flavor to the NFC East. The Cowboys have definitely held the division solid with their five ring-taking moments, followed by the Redskins and Giants, tied with three. That's history baby, all in the record books. You just can't argue with facts like that.
Tom Landry, George Allen, Dick Vermeil, Bill Parcells – amazing history. Yep, hard to beat the NFC East as the best all time professional football division.
What do you think?

We'd love to hear your comments and/or opinions. If you submit them here, other visitors can read them, rate them and comment on them. An e-mail address is not required.


---
Best All Time Professional Football Player
|
Best All Time Professional Football Team
|
Best All Time Defensive Professional Football Team
|
Best All Time Professional Football Coach
|
Best All Time Professional Football Fans
|
Best All Time Professional Football Franchise
|
Top All Time Professional Football Franchise
|
Best All Time Professional Football Linebacker
|
Best All Time Professional Football Rivalry
|
Best All Time Professional Football Quarterback
|
Best All Time Professional Football Runningback
|
Best All Time Professional Football Stadium
|
Best NFC West NFL Fans
|
Best All Time Professional Football Defensive Player
|
Best All Time Professional Football offensive Line
|
Best All Time Dallas Cowboys Linebacker
|
Best All Time Super Bowl
|
Best All Time Pro Football Quarterback Never Win Super Bowl
|
---
From Best All Time NFL Football Division to History of Professional Football | Best All Time Sports Blog | MLB History | History of NBA | History of Hockey | NCAA Football History | NCAA Basketball History | NCAA Baseball History | History of College Sports | Olympic Sports History | History of All Sports | Best Moments in Sports History | Worst All Time Sports Moment | Current Best All Time Sports News | NFL Football Apparel and Merchandise | MLB Baseball Apparel and Merchandise | NBA Basketball Apparel and Merchandise | NHL Hockey Apparel and Merchandise | College Fan Apparel and Merchandise | Other Sports Fan Apparel and Merchandise | Fathead | Sports Tickets |
---
Return to Home Page
About Us | Contact Us | Site Search | Advertise | Terms of Use / Privacy Policy |
---