Best All Time Professional Football Rivalry

The Green Bay Packers and the Chicago Bears have been at each other's throats in the pro football arena forever! They have the strongest, longest lasting and most passionate rivalry in the NFL. The Packers and Bears have played each other more than 175 times. More than any other pair of teams. They are in the same division (NFC North) and located in close geographical proximity (neighboring states). Tensions are bound to happen.
The Bears have an advantage in head-to-head wins with 91 currently. However, lately, under Brett Favre, the Packers have been gaining ground fast. It will be interesting to see if that continues with Favre gone. Tell a Bears fan you are a Packers fan or visa versa and watch the reaction you get. First off make sure you know the person well enough that it does not turn into a physical confrontation. That is just how passionate both teams' fans are about being considered the best.
Between the two teams combined, they have won 21 NFL Championships with 4 being Super Bowls, and have a combined total of 48 players that have been inducted into the NFL Football Hall Of Fame. Heck, I am actually happy for both of them. They both have pretty solid records singular or combined. So what is all the rivalry all about? Well, with both teams a part of the NFC North Division, they bear their menacing faces to one another twice a regular season.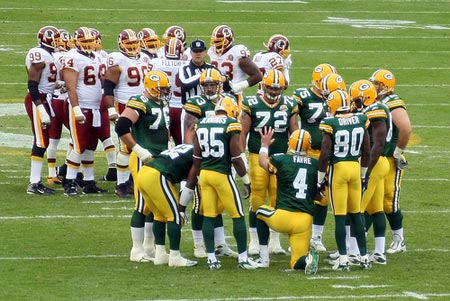 Brett Favre 38 years old, and the holder of most of the NFL's quaterback records,
including most consecutive starts ... most career touchdown passes ... most wins
as a starting quaterback .... Thanks to flickr.com for the picture. Source: Aff1737
---
Some say that the Bears – Packers rivalry fails in comparison as the best all time pro football rivalry to other NFL rivals running today. However, with the long-standing rivalry that has remained for the most part constant since 1925, even if the teams where to lighten up, I don't see the fans following suit! The Packers and Bears fans are some of the most loyal and aggressive fans in the NFL. Go to the Packers or Bears stadium for any game and you cannot only hear the support, you can feel it.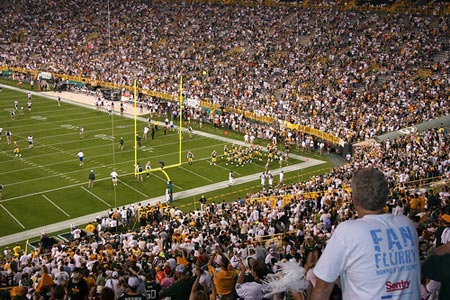 Green Bay Packers and the Chicago Bears. Thanks to flickr.com for the picture.
Source: joelrivlin
---
The bottom line is that both the Chicago and Green Bay franchises have illustrious histories; have played each other more than any other two teams; and both continue to be powerhouse teams in the rough and tumble NFC North.
Why wouldn't we pick the Packers vs Bears rivalry as the best all-time professional football rivalry? What do you think?
What do you think?

We'd love to hear your comments and/or opinions. If you submit them here, other visitors can read them, rate them and comment on them. An e-mail address is not required.


---
Best All Time Professional Football Player
|
Best All Time Professional Football Team
|
Best All Time Defensive Professional Football Team
|
Best All Time Professional Football Coach
|
Best All Time Professional Football Fans
|
Best All Time Professional Football Franchise
|
Top All Time Professional Football Franchise
|
Best All Time Professional Football Linebacker
|
Best All Time Professional Football Quarterback
|
Best All Time Professional Football Runningback
|
Best All Time Professional Football Stadium
|
Best All Time NFL Football Division
|
Best NFC West NFL Fans
|
Best All Time Professional Football Defensive Player
|
Best All Time Professional Football offensive Line
|
Best All Time Dallas Cowboys Linebacker
|
Best All Time Super Bowl
|
Best All Time Pro Football Quarterback Never Win Super Bowl
|
---
From Best All Time Professional Football Rivalry to History of Professional Football | Best All Time Sports Blog | MLB History | History of NBA | History of Hockey | NCAA Football History | NCAA Basketball History | NCAA Baseball History | History of College Sports | Olympic Sports History | History of All Sports | Best Moments in Sports History | Worst All Time Sports Moment | Current Best All Time Sports News | NFL Football Apparel and Merchandise | MLB Baseball Apparel and Merchandise | NBA Basketball Apparel and Merchandise | NHL Hockey Apparel and Merchandise | College Fan Apparel and Merchandise | Other Sports Fan Apparel and Merchandise | Fathead | Sports Tickets |
---
Return to Home Page
About Us | Contact Us | Site Search | Advertise | Terms of Use / Privacy Policy |
---