Two coaches stand out above the rest as the best all-time professional football coaches. They are Tom Landry of the Dallas Cowboys and Vince Lombardi of the Green Bay Packers. We are just going to have to call it a tie and you can give your opinion at the bottom of this page.
Tom Landry coached the Cowboys for 29 consecutive seasons (1960 – 1988) and you have to admit that is pretty phenomenal. In fact, it's hard to imagine any NFL coach ever again staying with one team for 20 years. The reason is that neither fans nor owners would put up with the record Landry posted in his early years. In fact, the Cowboys went 0-11-1 in his first season and never won more than 5 games in his first five years. Yet, owner Clint Murchison still gave him a new 10 year contract after the first five years of futility.
Landry knew the game of football from the inside out having been fullback and defensive back for the University of Texas and pro football player for the NFL Giants and a player-assistant coach. After retiring from playing the game, interestingly enough, Landry co-coached alongside Vince Lombardi as a defensive coordinator for the Giants. The NFL Giants made it to 3 NFL championships in the four years that Landry was there.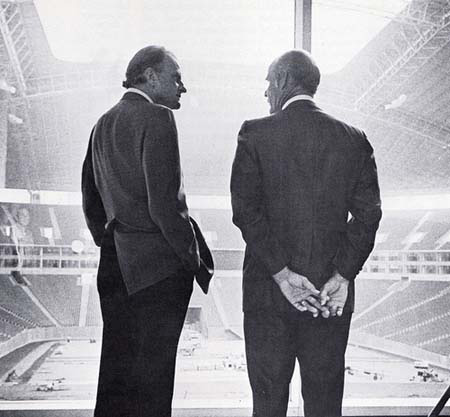 Billy Graham and Tom Landry overlook the almost-done Texas Stadium in 1970.
Thanks to flickr.com for the picture. Source: austrini
---
In 1960, Landry took over as head coach for the Dallas Cowboys, which started his amazing 29-season career there. With the Cowboys, Landry accumulated a career record of 270-178-6 in comparison to Lombardi's career record of 105-35-6. Landry took the Cowboys to five Super Bowls and won two, one in 1971 and again in 1977. Alongside of the two Super Bowl wins, Landry took the Cowboys to five NFC Conference Championships.
Landry was inducted into the NFL Football Hall of Fame in 1990 and 10 years later passed away from leukemia. Landry will not only be remembered for building the Dallas Cowboys into the powerhouse known as "America's Team." He also will be rememberd for his innovative mind. He developed the "4-3" defense and "flex" defense. On offense, he pioneered the "shotgun formation;" "man in motion" and also various forms of offensive shifting (to throw the defense off). The Cowboys were known for the up and down shifting of the offensive lineman which was meant to obscure the defense's view of the movements of the running backs before the snap of the ball. Of course, everyone remembers Tom Landry's signature hat and his calm demeanor. What an amazing career.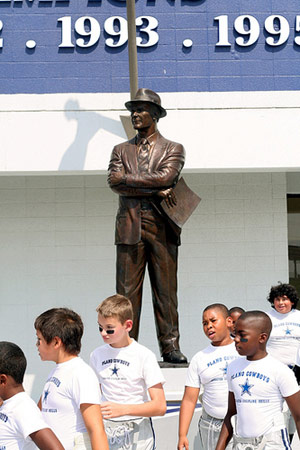 It's Like Tom Landry Is Still Coaching! The team loved having their picture taken with the Coach....... Thanks to flickr.com for the picture. Source: Cyndie@smilebig
---
But, what about Vince Lombardi? The great Lombardi who willed the Green Bay Packers to win five championships in ten years.
Lombardi took over the Packers in 1959 as Head Coach and General Manager. During his coaching career with the Packers, Lombardi brought a new level of motivation to the Packers and was well known for motivational phrases he would use with his team such as "Once you learn to quit, it becomes a habit" and "Perfection is not attainable, but if we chase perfection we can catch excellence." Excellence is exactly what he caught during his tenure with the NFL Packers. When Lombardi took on the NFL Packers, they hadn't had a winning season since 1947. From a 1-10-1 team in 1958, Lombardi took the Packers to a new level of 7-5 in his first year while picking up the Coach of the Year honor.
The two best all time Pro football coaches, Lombardi and Landry, would meet again, this time on opposing sides of the field, in the 1966 and 1967 NFL Championship Games. Lombardi's Packers won both games; 34-27 in '66 and 21-17 in '67. The latter game is known as the "Ice Bowl" and widely considered the greatest game in NFL history. In temperatures below minus 13 degrees with wind chill factor minus 46 and below, on a field of ice, the Packers again beat the Cowboys, this time 21 – 17. The Packers followed up those two NFL Championships by easily winning Super Bowls I and II against the AFL Champion Kansas City Chiefs and Oakland Raiders.
[Of course, keep in mind that the Cowboys were just beginning to emerge as a top NFL team. The Packers were at their height of glory. During the 70's, the Cowboys really dominated professional football.]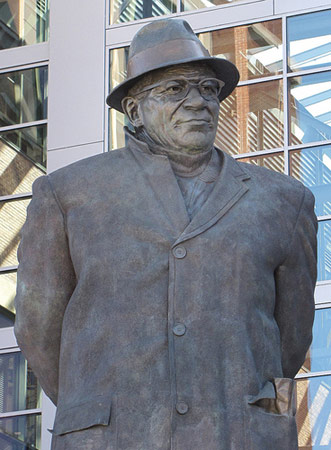 Vince Lombardi lead the Packers to their second period of "football greatness," winning 2 Super Bowls with them. Thanks to flickr.com for the picture. Source: jimbowen0306
---
Lombardi retired from the Packers after that season but remained on as general manger for an additional year. He did a one-year stint coaching the Redskins, bringing them to a new level as well. Vince Lombardi passed away in 1970, at the age of 57 from cancer. One week after Vince's death, the NFL Commissioner Pete Rozelle named the Super Bowl Championship trophy the "Vince Lombardi Trophy".
In closing, just one more of Lombardi's numerous motivational phrases, "It's easy to have faith in yourself and have discipline when you're a winner, when you're number one. What you got to have is faith and discipline when you're not a winner." And that folks, pretty much sums up why Lombardi is a winner, and always will be, because with faith, all things are possible, and Lombardi proved that time and again.
So there you have it. Maybe now you know why we say Tom Landry and Vince Lombardi are the best pro football coaches in history. We just couldn't choose between them. Can you? Or is there another, even better professional football coach you'd like to discuss?
What do you think?

We'd love to hear your comments and/or opinions. If you submit them here, other visitors can read them, rate them and comment on them. An e-mail address is not required.


What Other Visitors Have Said
Click below to see contributions from other visitors to this page...

Tom Landry Was The Greatest Coach Ever Not rated yet
Tom Landry was the greatest coach of all time for the following reasons: 1. He took an expansion team with no good players and within 5 years took …
---
Best All Time Professional Football Player
|
Best All Time Professional Football Team
|
Best All Time Defensive Professional Football Team
|
Best All Time Professional Football Fans
|
Best All Time Professional Football Franchise
|
Top All Time Professional Football Franchise
|
Best All Time Professional Football Linebacker
|
Best All Time Professional Football Rivalry
|
Best All Time Professional Football Quarterback
|
Best All Time Professional Football Runningback
|
Best All Time Professional Football Stadium
|
Best All Time NFL Football Division
|
Best NFC West NFL Fans
|
Best All Time Professional Football Defensive Player
|
Best All Time Professional Football offensive Line
|
Best All Time Dallas Cowboys Linebacker
|
Best All Time Super Bowl
|
Best All Time Pro Football Quarterback Never Win Super Bowl
|
---
From Best All Time Professional Football Coach to History of Professional Football | Best All Time Sports Blog | MLB History | History of NBA | History of Hockey | NCAA Football History | NCAA Basketball History | NCAA Baseball History | History of College Sports | Olympic Sports History | History of All Sports | Best Moments in Sports History | Worst All Time Sports Moment | Current Best All Time Sports News | NFL Football Apparel and Merchandise | MLB Baseball Apparel and Merchandise | NBA Basketball Apparel and Merchandise | NHL Hockey Apparel and Merchandise | College Fan Apparel and Merchandise | Other Sports Fan Apparel and Merchandise | Fathead | Sports Tickets |
---
Return to Home Page
About Us | Contact Us | Site Search | Advertise | Terms of Use / Privacy Policy |
---