Update:
Bummer for Peyton Manning (and NFL) fans. Due to a third surgery on his neck, in September, the best all-time pro football player will miss at least 10 weeks and possibly the entire 2011 season. Until now, Manning had not missed a single game in his 14 seasons in the NFL. In fact, Peyton had the second-longest consecutive game streak for a QB in NFL history, behind only Brett Favre. Manning had 227 consecutive starts (including postseason games) prior to missing the season opener on September 11, 2011. The Colts got crushed in the game by the way -- without Manning. It's likely to be a long season for Indy. Yup, this is discussed more at
Manning Greatest Since Otto Graham
.

Despite his loss to the Saints in the 2010 Super Bowl, we are going to stick our necks out here just a bit and pick Peyton Manning as the best all-time professional football player. There are many players you could pick of course. We select Manning largely because even if he's not the best ever right at the moment; he is still in the prime of his career and we are confident that when all is said and done – everyone will recognize Peyton Manning as the greatest player in football history. And, we don't want to re-write this article then.
Born in 1976, Manning began his football career on the field of Isidore Newman High School located in Baton Rouge Louisiana. Manning was no rookie to football, as he followed in his father, NFL (and Ole Miss) quarterback Archie Manning's, footsteps as did his younger brother Eli, quarterback for the New York Giants.

Leading his high school team as the starting quarterback to take his 3-year season into a 34-5 record was just the beginning of what was to come for Peyton Manning. During his high school career, Manning was named the Gatorade Circle of Champions National Player-of-the-Year and Columbus Touchdown Club National Offensive Player of the Year in 1993.

Peyton went on to be the number one recruited quarterback in the nation and picked the University of Tennessee. Manning eventually became the university's all-time leading passer with remarkable accuracy, as his records show, with 11,201 yards, 863 completions, and 89 touchdowns and holding 59 major high school, SEC, NCAA, and University of Tennessee records and awards. It was Manning's accuracy skills, arm strength, intelligence and maturity that made the first overall pick in 1998 -- drafted by the Indianapolis Colts.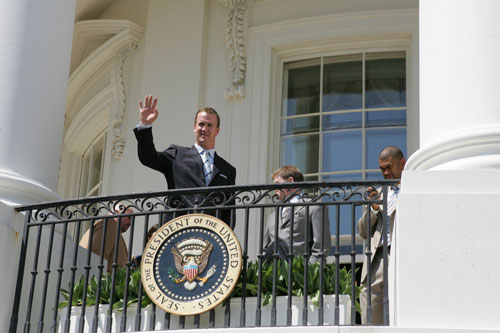 Peyton Manning visits the White House after winning the 2007 Super Bowl.
---

Rather then list all of the accomplishments and stats of Peyton Manning's ongoing football career, let me simply tell you that since his high school years playing ball starting in 1992 to present, Manning has received numerous award every year except for 2001 as well as holds a number of individual career records.

Manning has been selected for the Pro Bowl team 9 times (every year except his first season (1998) and (2001). He was named MVP of the NFL by the Associated Press a record 4 times (2003, 2004, 2008 and 2009). He was MVP of Super Bowl XLI. We can't even count all the awards and records Peyton has won and set in his NFL career. There are literally well over 100.

Peyton Manning is currently on pace to break every single major record for an NFL QB. He is in the top seven right now for most career completions, touchdowns, and passing yards.

Manning is probably most respected for his outstanding control of the football game. He seems to always be one step ahead of the defense. His pre-snap routine is unique and a good example. Unlike the typical pre play huddle, Manning and his teammates wing it, by lining up and going on Manning's lead after he sizes up the opponents, delivering a mixture of hand and verbal commands dictating the play to be made. The hand signals are never the same with a variety of fake ones thrown in the mix to keep the opposing team clueless. Manning is amazing in his ability to keep defenses off balance.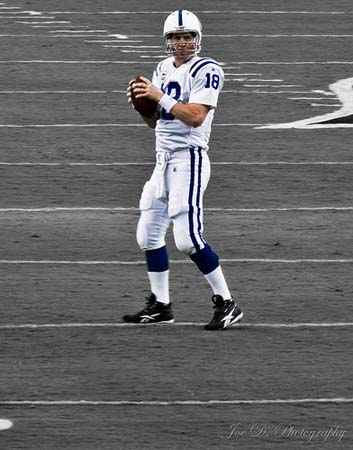 This is from the Colts vs. Cardinlas on 9.27.09 .
Thanks to Abqtrucker at flickr.com for the picture.
---

Of course football is not everything in Peyton Manning's life. His family also plays a major role as well as his charity involvements. The Manning Passing Academy is dedicated to improving the offensive skills of young quarterbacks, wide receivers, tight ends, and running backs. Manning has also become the most marketable NFL player to date and has appeared on numerous commercial and T.V. shows. His marketabily stems from his exploits on the football field; but also his squeeky clean "good guy" image off the field. Any company or organization would love to be associated with Peyton Manning.

Bottom line, for about 100 reasons – we pick Peyton Manning as simply the greatest professional football player of all time. And actually he was great in college too. Maybe not the best college player ever. But, if you combine his pro and college record – you can easily say he's simply the best football player in history. Period.

Agree, disagree? Here's a contrary opinion on this site; arguing that Joe Montana is the best all time professional football quarterback. Let us know what you think below.

You can read more about Peyton Manning at Best All-Time SEC Quarterback and Peyton Manning Biography.

Check out our Top 2010 Fantasy Football Picks; you'll find Peyton Manning there.


What do you think?

We'd love to hear your comments and/or opinions. If you submit them here, other visitors can read them, rate them and comment on them. An e-mail address is not required.


What Other Visitors Have Said
Click below to see contributions from other visitors to this page...

Peyton Manning is the Best -- Could not agree MORE!






I happen to love the guy and feel lucky to be alive and watching him during his playing years. Like him or not (I know some don't but essentially this …
---
NFL All-Time Team | Top 2010 Fantasy Football Picks | 2010 NFL Power Rankings Preview | Best Football Player of All Time | Best All Time Professional Football Team | Best All Time Defensive Professional Football Team | Best All Time Professional Football Coach | Best All Time Professional Football Fans | Best All Time Professional Football Franchise | Top All Time Professional Football Franchise | Best All Time Professional Football Linebacker | Best All Time Professional Football Rivalry | Best All Time Professional Football Quarterback | Best All Time Professional Football Runningback | Best All Time Professional Football Linebacker Unit | Best All Time Professional Football Stadium | Best All Time NFL Football Division | Best NFC West NFL Fans | Best All Time Professional Football Defensive Player | Best All Time Dallas Cowboys Linebacker | Best All Time Super Bowl | Best All Time Pro Football Quarterback Never Win Super Bowl | Best All-Time Professional Football Wide Reciever |
---
From Best All Time Professional Football Player to History of Professional Football | Best All Time Sports Blog | MLB History | History of NBA | History of Hockey | NCAA Football History | NCAA Basketball History | NCAA Baseball History | Small College Football History | History of College Sports | Olympic Sports History | History of All Sports | Best Moments in Sports History | Worst All Time Sports Moment | Current Best All Time Sports News | Best Sports Forum | Best Sports Blogs | NFL Football Apparel and Merchandise | MLB Baseball Apparel and Merchandise | NBA Basketball Apparel and Merchandise | NHL Hockey Apparel and Merchandise | College Fan Apparel and Merchandise | Small College Sports Apparel and Merchandise | Other Sports Fan Apparel and Merchandise | Best Sports Gifts | Fathead | Sports Tickets |
---
Home Page

About Us | Contact Us | Site Search | Advertise | Terms of Use |
---