Worst All Time Baseball Game

Of the many terrible baseball games in MLB history, it would be impossible for all baseball fans to agree on only one worst all time baseball game. At the same time I am equally sure that just about every baseball fan has at least their own opinion on what they consider the worst all time baseball game to be. For me, as a Cubs fan, the "worst" baseball game ever was definitely game 6 of the NLCS that was played on October 14, 2003
As a long time Cub's fan, I really get into the spirit of the game. Whether my team is winning and playing their hardest, or playing less than their best and losing, it is difficult to keep my enthusiasm down. I have never considered myself a fair weather Cub's fan although I am convinced there are a great number of people who fall into that category.
The National League Championship Series between the Chicago Cubs and the Florida Marlins was being played at Wrigley Field. It had been an exciting series and this game was no exception. The Cubs were a mere five outs from winning the playoff series, which would have moved them to the World Series. It would have been the first time since 1945 that the team would play in the World Series. There was hope among the players that they could eradicate the legend of the team that had not won a World series game since 1908.
The fact that this memorable game was being played at Wrigley Field only added to the hype. Wrigley is, in my opinion, the greatest baseball park in existence and the most fan friendly too. I've never met anyone who has attended a game and disliked the park.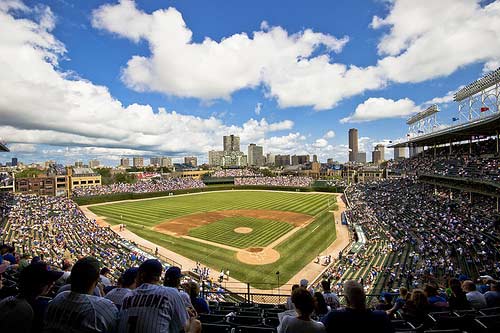 A panoramic view of Wrigley Field.
Thanks to andylemay on flickr.com for the picture.
---
No one goes to a baseball game without thinking somewhere in the back of their mind that it would be a great thrill to be able to catch a souvenir ball for future bragging rights. This thought is even bigger and more important in a playoff game or series game especially if it is your team's ball.
This particular night an enthusiastic 26 year old Cub fan by the name of Steve Bartman would become one of the most infamous fans of all times. His interest in the team had even included trips to Mesa, Arizona to watch the Cubs' spring training. I am convinced that if he would have had a clue about the turmoil that would follow he would have stuck his hands in his pockets and kept his butt in his seat. There were several other spectators who were in a position to catch the fly ball but lady luck, or maybe bad luck, was on his side and he was the one who caught the pop foul ball hit by Castillo.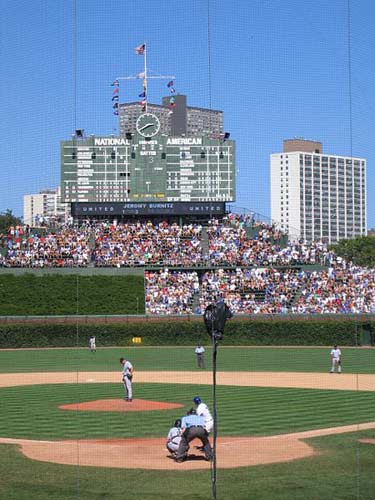 The main scoreboard at Wrigley Field on the August 27, 2005 Cubs-Marlins game.
Thanks to wikipedia.org for the picture.
---
Moises Alou, the Cubs player who was trying to catch the ball for the out insisted that he could have caught the ball if the fan had not interfered. In utter frustration, he tossed his glove to the ground and started yelling at the fans. Whether this was true or not it was definitely a turning point in the series and helped to make it this game infamous in Chicago Cubs history.
Later, Alou admitted that he probably would not have caught the ball. As for Bartman, he had to be escorted from the park by security because other fans were throwing things at him and hurling profanities. He ended up having to have his phone number changed to stop the harassing phone calls. It was reported that Illinois Governor, Rod Blagojevich had made the statement that Bartman might be safer if he went into the witness protection program. Back at Wrigley Field, the "Bartman Seat" (aisle 4, row 8, seat 113) has become a frequent site for pictures. The legendary ball was sold at an auction in 2003 and for nearly $114,000. In February of 2004, the ball was blown up in a public display.
If this isn't the worst all time baseball game, I want to hear about your pick.
What do you think?

We'd love to hear your comments and/or opinions. If you submit them here, other visitors can read them, rate them and comment on them. An e-mail address is not required.


---
Worst All Time Football Game
|
Worst All Time Basketball Game
|
Worst All Time Sports Team
|
Worst All Time Sports Franchise
|
Worst All Time Draft Pick
|
Worst All Time Heartbreak in Sports
|
Worst All Time Sports Arena
|
Worst All Time Sports Fans
|
Worst Current Sports City
|
Worst All Time Sports Injury
|
Worst All Time Sports Movie
|
Worst All Time Sports Play
|
Worst Chokes in Sports History
|
---
From Worst All Time Baseball Game to Worst All Time Sports Moment | Best All Time Sports Blog | History of Professional Football | MLB History | History of NBA | History of Hockey | NCAA Football History | NCAA Basketball History | NCAA Baseball History | History of College Sports | Olympic Sports History | History of All Sports | Best Moments in Sports History | Current Best All Time Sports News | NFL Football Apparel and Merchandise | MLB Baseball Apparel and Merchandise | NBA Basketball Apparel and Merchandise | NHL Hockey Apparel and Merchandise | College Fan Apparel and Merchandise | Other Sports Fan Apparel and Merchandise | Fathead | Sports Tickets |
---
Return to Home Page
About Us | Contact Us | Site Search | Advertise | Terms of Use / Privacy Policy |
---