Worst all Time Sports Movie

Before anyone start bombing me with footballs, allow me to explain how I picked the worst sports movie in history. First off, there are a ton of crappy sports movies and films out on the market, and I mean a lot! Because there are so many that I could complain about I had to narrow my focus and chose just to look at football movies. Again, there were several and it was hard to pick just one. Therefore, I narrowed my search again eliminating all the comedy football flicks and stuck just to what was supposed to be considered a more serious portrayal of football, thus came my choice of Any Given Sunday as my pick for worst all time sports movie.
Still ready to throw footballs at me? If you are then it is obvious you were sleeping through "Any Given Sunday" rather then watching it. Had you been watching it you would have known, when it comes to football movies it was a pure disappointment. I expected better, way better, out of Oliver Stone; so not only was I disappointed, I was surprised at the low quality of it. Even the lighting of the movie was poor. The majority of the time the movie was dark. I don't get it. Was the budget not there for proper lighting Stone?
As for the acting, come on now, I could have played a better Jamie Fox. Although cast with a bunch of "somebody's", you would have thought of some of them had never been in front of a camera before, and some never even to a football game. This movie would have played out better if its field was a putt putt golf course and Christina Pagniacci (Cameron Diaz) was trying to make a stand in the National Putt Putt Golf League rather then the NFL. Yes, it was that bad and why I pick it for the worst al time sports movies ever put to film that I have laid my eyes on. It breaks my heart that this movie sucked green eggs because I love Al Pacino. With the cast this film had, even with the worse script it should have been way better then what the final results were.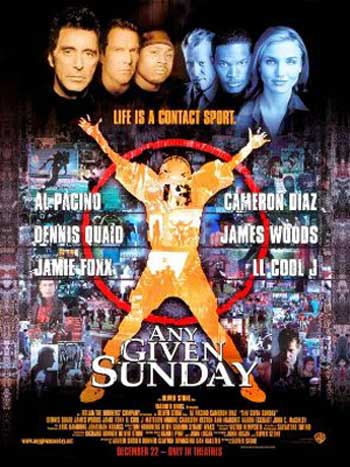 Film poster for Any Given Sunday - Copyright 1999, Warner Bros.
Thanks to wikipedia.org for the picture.
---
The last football action scene, where they zoom in on Foxx's eyes in the final moments, is he going to make the winning score or not, was cheesy! The back and forth, and fast and slow, and light and dark, may have been great had I been tripping on some psychedelic drug, but being I am non-pro drug use, the only effect it had on me was annoyance. Dramatic effect – zero! Eyeball on the field? Over kill! Corrupt self serving team doctors and owners who didn't know crap about the game, the players, and only concern is the win or a fancy new stadium are redundant and anyone who actually knows anything about the sport of football already knows this stuff. There was nothing new, nothing shocking, and definitely no "well I be damned" moments. Stone had a line up of cast members (Foxx, Quaid, Pacino, Diaz, James Woods, LL Cool J, Matt Modine, and Charlton Heston) to where he could have had a masterpiece that went down in the NFL Hall of Fame instead he took an unmemorable script and turned it into just another unmemorable movie. "Any Given Sunday" goes down in my book as the worst sports movie ever.
What do you think?

We'd love to hear your comments and/or opinions. If you submit them here, other visitors can read them, rate them and comment on them. An e-mail address is not required.


---
Worst All Time Football Game
|
Worst All Time Baseball Game
|
Worst All Time Basketball Game
|
Worst All Time Sports Team
|
Worst All Time Sports Franchise
|
Worst All Time Draft Pick
|
Worst All Time Heartbreak in Sports
|
Worst All Time Sports Arena
|
Worst All Time Sports Fans
|
Worst Current Sports City
|
Worst All Time Sports Injury
|
Worst All Time Sports Play
|
Worst Chokes in Sports History
|
---
From Worst All Time Sports Movie to Worst All Time Sports Moment | Best All Time Sports Blog | History of Professional Football | MLB History | History of NBA | History of Hockey | NCAA Football History | NCAA Basketball History | NCAA Baseball History | History of College Sports | Olympic Sports History | History of All Sports | Best Moments in Sports History | Current Best All Time Sports News | NFL Football Apparel and Merchandise | MLB Baseball Apparel and Merchandise | NBA Basketball Apparel and Merchandise | NHL Hockey Apparel and Merchandise | College Fan Apparel and Merchandise | Other Sports Fan Apparel and Merchandise | Fathead | Sports Tickets |
---
Return to Home Page
About Us | Contact Us | Site Search | Advertise | Terms of Use / Privacy Policy |
---