Worst All Time Heartbreak in Sports History


The glory of sports is the thrill of victory and the agony of defeat. Both happen; both are very real. And, each and every game or sporting event can go either way. This article is about the "down side" of sports; the heartbreaks. There is one that readily comes to mind and I'm about to share with you what I consider the worst heartbreak in sports history. For me, as a Green Bay Packers fan, it's not a particular game; rather it is the "divorce" between Brett Favre and the Packers. It was a betrayal by both the Packers ownership and Brett Favre of the team and fans who loved Favre and the Packers.
Brett Favre was the starting quarter back for the Green Bay Packers. He played for the Packers from the 1992 NFL season through the 2007 season. During his sixteen seasons with the Packers Favre won three consecutive AP MVP awards. There was only one other player in NFL history to achieve this honor. He was a starting player in ever Packers game from September 20, 1992, until January 20, 2008. He played his part to get his team to two super bowls and they won Super Bowl XXXI over the New England Patriots. During that game, he completed fourteen of twenty-seven passes for two hundred forty six yards and completed two touchdowns.
The Packers then fought and won a place in Super Bowl XXXII. Although they were heavily favored, they lost to the Denver Bronco's by a score of 31 to 24. Favre completed twenty-five of forty-two passes for two hundred fifty six yards and three touchdowns.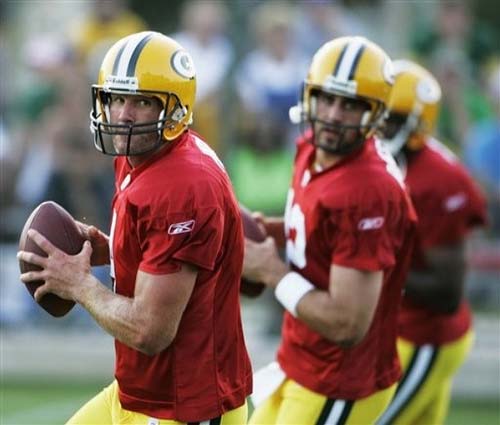 Green Bay Packers quarterbacks from left Brett Favre, Aaron Rodgers and Paul Thompson drop back to pass during a drill at football training camp Sunday, July 29, 2007, in Green Bay.
Thanks to avinashkunnath on flickr.com for the picture.
---
Two thousand seven was a milestone season for Favre. On February 26, 2007, Brett underwent arthroscopic surgery to remove bone spurs in his left ankle. In spite of this surgery he was in top form by the start of the 2007 season. On September 16, 2007, the Packers defeated the New York Giants giving Favre his one hundred forty ninth win to take the record from John Elway. On September 30, he threw a sixteen-yard touchdown to Greg Jennings during a game against the Vikings. That was his four hundred twenty first NFL touchdown and it broke Dan Marino's record. Favre became the third quarterback to defeat all thirty-one NFL teams. He rounded out the trio with Peyton Manning and Tom Brady just one week after they set their records. During the Thanksgiving game against the Lions, Favre led the Packers to a 37 to 26 win, and brought the team to a 10 to 1 record. In his sixty third career game, Favre threw three touchdown passes with at least three touchdowns to take over Marino's record of sixty two. They ended the regular season with a 13 to 3 record. They won the NFC North championship and were second seed in the NFC playoffs. During the division playoffs, he threw three touchdowns and the Packers beat the Seattle Seahawks 42 to 20. Their season ended with a 23 to 20 loss to the New York Giants during the NFC Championship game. Favre threw two touchdowns and had 236 passing yards. Even in loss, Favre broke the record for the longest pass in Packers playoff history with a 90-yard pass to Donald Driver.
At the end of this milestone season, he was selected to play in the 2008 Pro Bowl as the starting quarterback for the NFC. Fate had other ideas and he was forced to withdraw with an ankle injury.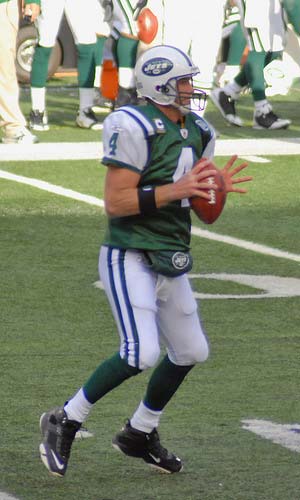 Brett Favre at New York Jets.
Thanks to GMO66 on flickr.com for the picture.
---
On March 4, 2008, Favre announced that he would retire. During the announcement, he was moved to tears and that sadness was shared by the many fans and the team who would be forced to go on without him. He insisted that his decision had nothing to do with his team. His insisted that he just did not want to play any more even though he felt like he could.
On July 2, Favre contacted the Packers about a possible return to the team but only nine days later, he sent a letter asking them for an unconditional release to play for another NFL team. It was reported that he would not get the unconditional release and he was informed that his quarterback spot with them had been given to Aaron Rodgers.
During an interview he stated that he had not been fully committed to retirement and felt he may have retired too soon. He said he did not blame the Packers for moving on with out him and replacing him but he felt he deserved the same option of moving on in his career. He was not interested in returning to the Packers as a backup player and he wanted to be released rather than traded. This scenario would allow him to play for on opposing team.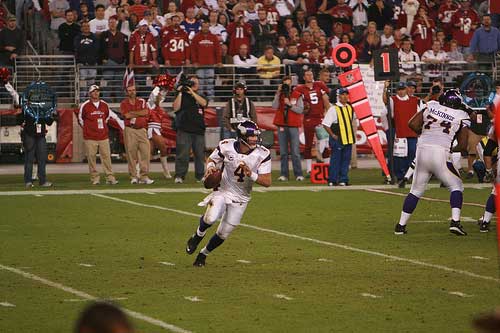 Packer vs. Vikings December 6, 2009. Brett Favre play! Brett lost.
Thanks to Divine in the Daily on flickr.com for the picture.
---
On July 29, 2008, Favre applied for reinstatement with the NFL. Commissioner Goodell granted the petition effective on August 4, 2008, and Favre flew to Green Bay to report to the Packers training camp. After much discussion it was agreed that it was time for Favre and the Packers to go their separate ways. Favre was traded to the Jets on August 7. Favre's brilliant career was tarnished by his divorce from his team.
Some have called Favre a traitor and disloyal. That's not right. As with most divorces there is plenty of blame to go around. The Packers management also could have done things to prevent the break-up. For us Packers fans, though, either way, Brett Favre's leaving the team to play for another has got to be the worst heartbreak in sports history.
Of course, the good news is that time heals all heartbreak (not just in sports) and now the Pack is Back! So, is Brett Favre, now with our rivals --- the Minnesota Vikings. It just gets better, or worse, depending on your perspective. And the cycle of the thrill of victory and agony of defeat rolls on. Just like in life, after you've experienced heartbreak, the thrill of victory is that much sweeter. This is what make sports great!
What do you think?

We'd love to hear your comments and/or opinions. If you submit them here, other visitors can read them, rate them and comment on them. An e-mail address is not required.


---
Worst All Time Football Game
|
Worst All Time Baseball Game
|
Worst All Time Basketball Game
|
Worst All Time Sports Team
|
Worst All Time Sports Franchise
|
Worst All Time Draft Pick
|
Worst All Time Sports Arena
|
Worst All Time Sports Fans
|
Worst Current Sports City
|
Worst All Time Sports Injury
|
Worst All Time Sports Movie
|
Worst All Time Sports Play
|
Worst Chokes in Sports History
|
---
From Worst All Time Heartbreak in Sports to Worst All Time Sports Moment | Best All Time Sports Blog | History of Professional Football | MLB History | History of NBA | History of Hockey | NCAA Football History | NCAA Basketball History | NCAA Baseball History | History of College Sports | Olympic Sports History | History of All Sports | Best Moments in Sports History | Current Best All Time Sports News | NFL Football Apparel and Merchandise | MLB Baseball Apparel and Merchandise | NBA Basketball Apparel and Merchandise | NHL Hockey Apparel and Merchandise | College Fan Apparel and Merchandise | Other Sports Fan Apparel and Merchandise | Fathead | Sports Tickets |
---
Return to Home Page
About Us | Contact Us | Site Search | Advertise | Terms of Use / Privacy Policy |
---