Worst All Time Sports Fans


Who are the worst sports fans in the United States? Wow, that's a hot potato. I'm going to upset someone no matter how I come out on this one. But, I've got to make the tough call. I think Florida Marlins fans are the worst sports fans in America. Ironically, the biggest reason I say that is because of how successful their team has been.
The Florida Marlins just started playing in 1993. In the relatively short time since then, they've already won two world series. Pretty amazing. Imagine how thrilled Chicago Cubs fans, for instance, would be if they could say the same about their team. Yet, Marlins fans are pretty ho-hum about their team. That's the problem. They should be ecstatic.
Also, how many fans are there really of the Florida Marlins -- two or three? That's really all you see. When the Marlins make it to the World Series fans will show up dressed in their colors and ready to cheer. But the rest of the time you would never even know that the Marlins had fans. Anyone who shows up to the game to sit on the Marlins side usually sits quietly watches the game gets up and leaves. There's no cheering there is no jumping up and down her shouting. No yelling at the umpires and no questioning the calls that are made. It is about as exciting as a game of golf on the television.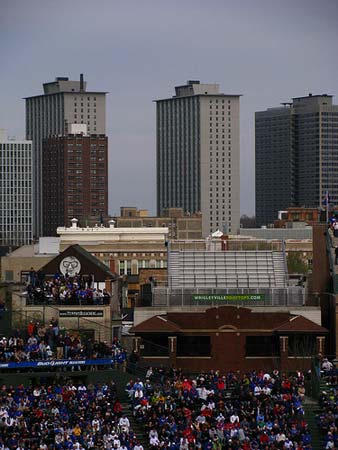 Wrigley Field, Chicago Cubs vs. Florida Marlins at Chicago – May 1, 2009.
Thanks to alex_ford on flickr.com for the picture.
---
The Marlins have a giant blinding orange stadium that has plenty of space for Marlins fans, yet most the time it appears as if there are only a couple of hundred fans on the Marlins side for the games. To say that the Marlins fans don't deserve to have a pro baseball team in Miami is the biggest understatement ever. When the Marlins made it to 2003 World Series, their fans couldn't have cared less while die-hard fans like the aforementioned long-suffering Cubs fans would have given their firstborn for a chance at a championship. For not supporting and cheering on the team that wins a championship 20% of the time, Marlins fans deserve the title of worst sports fans in the United States.
A big part of the problem is that the Florida Marlins are located in -- Florida. They play at Land Shark Stadium in Miami. Obviously, Florida has a fairly new and transient population. It has lots of retirees. Almost all these retirees relocate to Florida and already are long-standing fans of other teams -- principally the New York Yankees :) So, there are probably more Yankees fans in Miami than Marlins fans. That may be all you need to know to understand why Florida Marlins fans are relatively few and almost always lukewarm about their team.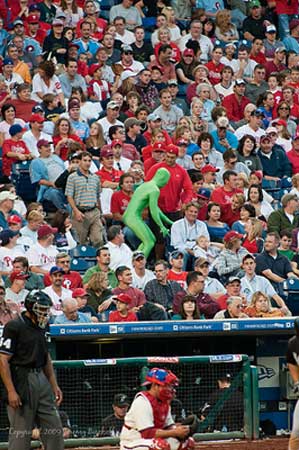 Florida Marlins vs. Philadelphia Phillies at Citizens Bank Park 10/3/09.
Thanks to j_bischoff on flickr.com for the picture.
---
The 2009 Marlins seasons, started out hot by beating the Washington nationals. They won their first seven for the first time in their franchise history. They also lost their next seven games, making them the first team in National League history to win seven straight games and lose the next seven. The Marlins stand at 3rd Place in the National League East, and they still have the worst baseball fans in America.
If you are sports fan who's looking for a team to support, check out the Florida Marlins, and believe me, there is plenty of room in the stadium for you and all whole bunch of your buddies. You can all show up, paint yourselves black, silver and teal and turn the fan situation around for the Florida Marlins.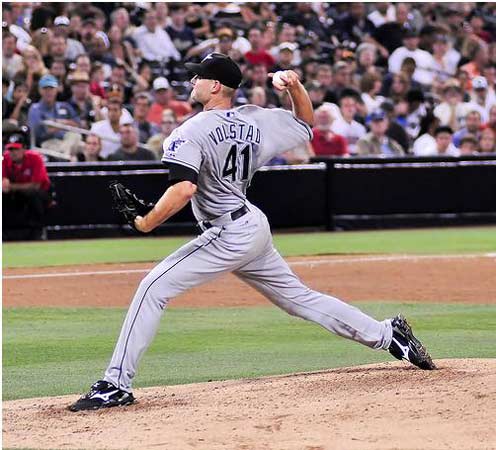 Florida Marlins vs. San Diego Padres.
Thanks to SD Dirk on flickr.com for the picture.
---
What do you think?

We'd love to hear your comments and/or opinions. If you submit them here, other visitors can read them, rate them and comment on them. An e-mail address is not required.


---
Worst All Time Football Game
|
Worst All Time Baseball Game
|
Worst All Time Basketball Game
|
Worst All Time Sports Team
|
Worst All Time Sports Franchise
|
Worst All Time Draft Pick
|
Worst All Time Heartbreak in Sports
|
Worst All Time Sports Arena
|
Worst Current Sports City
|
Worst All Time Sports Injury
|
Worst All Time Sports Movie
|
Worst All Time Sports Play
|
Worst Chokes in Sports History
|
---
From Worst All Time Sports Fans to Worst All Time Sports Moment | Best All Time Sports Blog | History of Professional Football | MLB History | History of NBA | History of Hockey | NCAA Football History | NCAA Basketball History | NCAA Baseball History | History of College Sports | Olympic Sports History | History of All Sports | Best Moments in Sports History | Current Best All Time Sports News | NFL Football Apparel and Merchandise | MLB Baseball Apparel and Merchandise | NBA Basketball Apparel and Merchandise | NHL Hockey Apparel and Merchandise | College Fan Apparel and Merchandise | Other Sports Fan Apparel and Merchandise | Fathead | Sports Tickets |
---
Return to Home Page
About Us | Contact Us | Site Search | Advertise | Terms of Use / Privacy Policy |
---