LeBron James will be a Chicago Bull next season. Mark it down and remember where you heard it first!! UPDATE: LeBron picked Miami, as Chris Bosh (is it THE Chris Bosh) predicted he would. James joins Bosh and Dwyane Wade there. Chris Bosh says LeBron to go to Miami.

Here's our predictions, preview, forecast of all the offseason NBA free agent moves about to happen.

Fans of the National Basketball Association know that NBA free agency is usually a yawn. Last year, the biggest star on the market was an ageing Hedo Turkoglu and, in 2008, the biggest signings were backfires on the nursing home versions of Baron Davis and Elton Brand. 
However, 2010 is set to change all that as the top two stars in the NBA - LeBron James and Dwayne Wade - both hit free agency July 1st.  Moreover, Wade and James will be joined by a quintet of top thirty players-Chris Bosh, Amare Stoudemire, Joe Johnson, David Lee, Carlos Boozer-and a potential three more if Dirk Nowitzki, Paul Pierce, and Yao Ming choose to opt out of the last years of their contracts.  So, without further ado, lets break down the greatest free agency in NBA, and possibly modern sports, history.

The Easy Calls:
The easiest predictions to make for 2010's hectic free agency period are that the three potential opt outs-Dirk Nowitzki, Paul Pierce, and Yao Ming-will sign extensions to remain with their teams. They are all future Hall of Famers, current leaders of their squads, and on the cusp of entering the downsides of their careers so it is only logical for them all to seek lucrative extensions to remain where they are. The fact that the Celtic, Maverick, and Rocket front offices have been vocal about their desire to resign to three stars makes these extensions more or less a done deal. Moving on…

The Stars:
When I originally outlined this column, I was going to put LeBron at the end since he is the star of the class. However, what I realized is that this group will likely sign via domino effect and it all begins with James. When James chooses his team, the rest of the franchises that have been scrambling to sign him since late 2007 will have to regroup and, once that happens, the second tier of guys should be signed rather quickly. So…

Breaking Down the LeBron James Factor:
Everyone-GMs, players, sports fans, sportswriters, psychiatrists, LeBron hater-Skip Bayless, and others-has been trying to deduce exactly where LeBron will sign for almost two years now. Across all sports, no player's free agency has ever garnered so much press attention. However, now that most of the dust has settled, breaking it down is potentially less hard than one might think.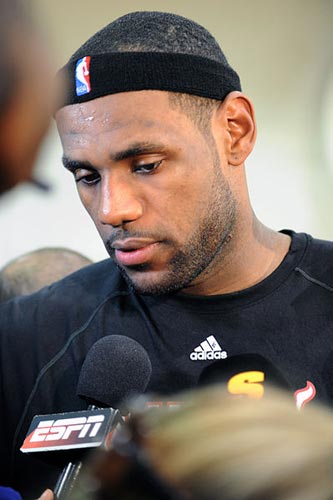 Thanks to Wikipedia.org for this great picture of LeBron James at Aderholt Fitness Center.
---

Eleven teams-the Nets, Knicks, Clippers, Kings, Bulls, Cavaliers, Mavericks, Rockets, Wolves, and Wizards-either have the cap space to sign James to a max contract or could put together a compelling sign and trade offer. Of these, two (the Clippers and Wizards) can be eliminated from the LeBron sweepstakes due to dysfunctional ownership or management and another two (the Kings and Wolves) can also be safely taken off the table because they lack both the roster talent and medium or above-sized NBA market that James craves. Of those remaining, James is highly unlikely to sign with the Nets because, though they will be in New York eventually, he would be condemned to play in Newark purgatory for the next two to three seasons, be playing for the New York's second team once he arrived, be heading a talented roster but one without the veteran talent to contend immediately, and playing for the least valuable franchise in the entire league. So scratch the Nets. Moreover, the Rockets are equally unlikely because, though they have a number of valuable assets, Houston is angling to sign a top power forward to pair with Yao Ming.

That leaves five possible options that cannot be readily eliminated: remaining with the Cavaliers or heading to New York, Miami, Dallas, or Chicago. While the Cavaliers were favored to keep him up until last week, their awful showing in the second round of the playoffs, weak supporting cast despite seven years of effort, and poor cap situation have left Cleveland in a rut. James looked positively ambivalent in the last two games of the series and it will be hard for Cavaliers management to convince him to remain because they lack the flexibility to put a top flight player next to him until Antawn Jamison's contract expires after two years.  Having watched stars like Kevin Garnett stay too long, James may feel like it is time to flee to greener (and less hopeless) pastures. My personal guess would be that, after seven years of hard losing, James is unlikely to spurn all the choices available to him. So, although the possibility that he will stay cannot be ruled out, I would judge it highly unlikely.

So, beyond Cleveland, LeBron could go to any one of the NBA's top markets. However, of the remaining four, only two make sense from a basketball perspective and only Chicago is a completely logical fit.  Why? Although the Knicks can make a max contract offer to LeBron and offer him the chance to play in the "Mecca of Basketball," they do not have any top talent (apologies to Danilo Gallinari) on the current roster and are years away from a championship even if they sign a top sidekick as well.  If you believe James when he says that his main concern is winning titles (and you should since rings, or the lack thereof, is what will ultimately define his career) then he is highly unlikely to put himself in a position where he would not even contend for a title until he is in his late twenties.  To do so would surrender the chance to match, or even approach, Jordan's six titles or Bryant' four (and counting), and a failure to do that would stamp out any chance that people would consider him one of the greatest players of all time. He would become, like Bill Simmons said, the modern Julius Erving: an amazingly great talent who only started winning at the tail end of his career.
Thanks to Keith Allison from Flikr.com for this great picture of LeBron James.
---

So, the three remaining spots are Miami, Dallas, and Chicago. Miami makes sense only if you believe that James and Wade can play together. However, history suggests that both players would want to be alpha dog and since it is Wade's team and the Heat star has already won a title, it would be tough for LeBron to earn top status on a team with both of them. As the best player in the NBA, and a man who sees himself as a rival to history's best, James is highly unlikely to put himself in the one possible situation where he is the sidekick.

Of the two remaining destinations, both Dallas and Chicago make sense from a winning and market potential point of view, but only Chicago makes sense when one takes James' career goals into account. In Dallas (which could put together a compelling sign and trade offer and give James a talented-but ageing- roster to work with), LeBron would become a great player and a likely winner of multiple titles, but it would lessen his legacy. In becoming a Maverick, James would have to surrender both the hometown charm and authenticity that have defined his growing legacy to this point in his career and the legend-making potential that both Chicago and New York offer. Who are the greatest and most loved stars in NBA history? Jordan (Bulls), Magic (Lakers), Kareem (Lakers), Bird (Celtics), Bryant (Lakers), Russell (Celtics), Chamberlain (Lakers), Shaq (Lakers), West (Lakers). The lesson is simple: if you want to be legendary, then you must go to a legendary franchise. In Dallas, James would be a great player on a great team, but he would not be a legend: the basketball gods on Mount Olympus would deny him entry at the gate.

Therefore, once you break it down methodically, the only destination that really makes sense for LeBron James is Chicago. To be the number one player, on the number one team, in the number one market, James will have to go to Chicago. There is simply no other answer. The Bulls have the talent in place to create a contender, including a perfect compliment for James in ultimate playmaker Derrick Rose. Cleveland's undoing the past few seasons has been that they ran a slow pace making no use of James' speed and allowed teams to isolate him defensively on important possessions because he lacked another impact playmaker alongside him. With the Bulls, James would run more and be almost impossible to guard defensively since any teams isolating on him would be scorched by Rose, Deng, or even an unguarded Noah. In addition, the Bulls are already the third largest market and second most profitable franchise without James, so adding him would catapult the team to levels not seen since the Jordan era in the mid 1990s. No other team looking to sign LeBron can offer him that combination: New York lacks the team, the Nets and Mavericks lack the market, and Miami would make him a secondary option. Knowing all that, I think it is surprisingly easy to predict where James will be next year: Chicago.

Dwayne Wade:
Despite the fact that Wade's talent nearly matches James', the speculation surrounding him is not nearly as interesting because the Miami superstar has limited himself to only two realistic options: Miami and Chicago. Of the two, Chicago is only an option because it is Wade's home and the team has intriguing talent, but Wade is unlikely to want to live near the source of all his divorce-related legal troubles and, moreover, there are worthwhile questions about whether Wade could play with a dominant fellow guard like Rose. Barring an unforeseen change, look for Wade to return to Miami and be paired with some new talent come next season.

Chris Bosh:
Of all the top players available, Bosh is most likely to leave. However, his value has taken a bit of a dip recently since teams now see him more as a complimentary talent on a championship team than a franchise player. That said, there are enough big teams with cap space looking for an infusion of talent that he will get a max deal and have options to boot. His decision is difficult to peg just now but, considering that the Knicks are likely to whiff on James and need to add a big name, I would bet on them to snag him-either outright or in a sign and trade involving David Lee. That said, if Chicago doesn't get James, Bosh will immediately be their top target and a bidding war could ensue.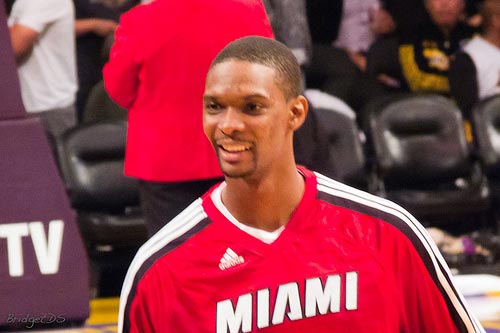 Thanks to Bridget Samuels from Flikr.com for this great picture of Chris Bosh.
---

Joe Johnson:
Johnson's awful performance against Orlando weakened arguments that he is a franchise player worthy of a max deal, but the five time All Star will still get a large payday. He would be a perfect add for the Knicks; especially if he is paired with a top point guard (think an Eddy Curry expiring contract and Danilo Gallinari trade for Tony Parker or Devin Harris) and an elite power forward. Failing that, however, Johnson could go to Chicago in a sign and trade deal involving Luol Deng (making the Bulls an even more attractive target for James since Johnson is the perimeter threat the team desperately needs), could be a target for Dallas, or might end up on the Nets if their new owner wants to make a big splash and offers him a max deal.

Amare Stoudemire:
Stoudemire is an intriguing case since he is arguably the most talented power forward available but is so injury prone and inconsistent that teams are unlikely to line up to sign him. That said, he is likely Miami's top target since he would mesh well with Dwayne Wade and, failing that, should be considered a failsafe option for both the Bulls and Knicks.

Carlos Boozer:
Of all the names available, Boozer is the hardest to peg down. In truth, no one has any idea where Boozer will sign because he is not anyone's top target. Interest in Boozer should be lukewarm at first since teams will look to sign James, Bosh, and Stoudemire. However, once those guys are signed, Boozer will be a hot ticket because he will be the last resort for any team looking to stop itself from striking out entirely. His options include Utah, Miami, Chicago, New York, New Jersey, Washington, and Sacramento and no one has any idea where he will end up.

So there you have it. Beginning July 1st, the NBA will experience its most hectic signing period in years. Once it all shakes out, we will have a better idea who will be the power players of the young decade….so stay tuned.

Thanks to Paul Grossinger for writing this article and sticking his neck out with very specific NBA free agent projections. We'll see what happens....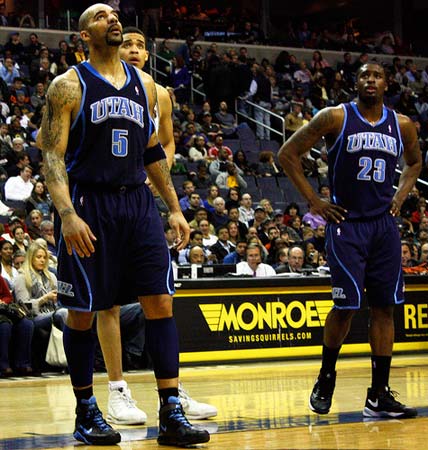 Thanks to truthaboutit from Flikr.com for this great picture of Carlos Boozer (#5).
---
---
Best All Time Professional Basketball Player | Best Current Pro Basketball Player | Best All Time Pro Basketball Scorer | Best All Time Pro Basketball Coach | Best All Time Pro Basketball Fans | Best All Time Pro Basketball Franchise | Best All Time Professional Basketball Team | Best All Time Professional Basketball Rivalry | Best All Time Pro Basketball Arena | Best All Time Boston Celtic | Top 2009 2010 NBA Rookie |
---
From 2010 NBA Free Agent Predictions to History of NBA | Best All Time Sports Blog | History of Professional Football | MLB History | History of Hockey | NCAA Football History | NCAA Basketball History | NCAA Baseball History | History of College Sports | Olympic Sports History | History of All Sports | Best Moments in Sports History | Worst All Time Sports Moment | Current Best All Time Sports News | Best Sports Forum | NFL Football Apparel and Merchandise | MLB Baseball Apparel and Merchandise | NBA Basketball Apparel and Merchandise | NHL Hockey Apparel and Merchandise | College Fan Apparel and Merchandise | Other Sports Fan Apparel and Merchandise | Fathead | Sports Tickets |
---
Return to Home Page

About Us | Contact Us | Site Search | Advertise | Terms of Use / Privacy Policy |
---