Best All-Time Baseball Fielder


Third base is arguably the most difficult position to play on the baseball field. Amazingly, the best fielder in baseball history played at that position. Because of his reflexes, consistency, and overall fielding talent; Brooks Robinson is easily the best professional baseball fielder of all time.
Brooks Robinson is widely known for his fielding abilities. He was given the nickname 'The Human Vacuum Cleaner' as a result of his fielding talent. Robinson won 16 Gold Glove Awards in his pro baseball career - consecutively. He won his first in 1960 and after 16 years of dominance at 3rd base he won his last in 1975. That string of Gold Glove's is tied for the most ever, with Jim Kaat.

Robinson's total amount of Gold Gloves is tied for second all time to Greg Maddux. While Greg Maddux has won more Gold Gloves than Robinson, the fact of how difficult third base is to play, makes up for more than numbers. Third base is nicknamed 'The Hot Corner' because of the tendency for players to pull line drives to third base at speeds upwards of 125 mph.

Third base is also the position closest to the batter, excluding the pitcher. In addition to taking the line drives, they are the fielder that most often fields the bunts, meaning they frequently have to charge the ball at full speed and then throw to first off balance. An ability to do this every time without throwing the ball into the stands is a phenomenal.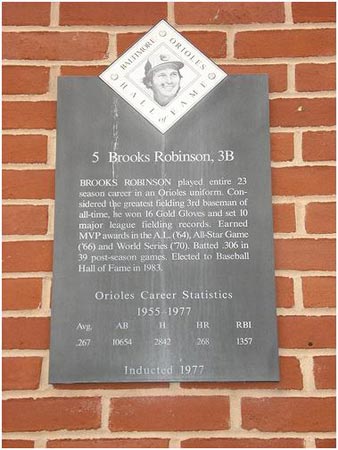 Brooks Robinson. Thanks to flickr.com for the picture. Source: nickhall
---

Brooks Robinson may have the second most career Gold Gloves but he has the most career Gold Gloves for a third baseman by a mile. The third baseman with the second most Gold Gloves is Mike Schmidt and he only has 10. Brooks Robinson also leads third baseman in fielding percentage with .971. In comparison, Mike Schmidt has a fielding percentage of only .955. In addition to leading third baseman in fielding percentage, he also leads them in most putouts (2697), most assists (6205), most double plays (618) and most chances (9165). In total he only committed 263 errors in his career. For playing 23 seasons in the majors, that is only about 11 a season, a remarkably low number for a third baseman.

In 1983, Robinson was named to the National Baseball Hall of Fame and in 2007 Rawlings named him to the all-time Gold Glove Team. A measure of how good he was at his position is in how mediocre he was in the other part of baseball, batting. His career batting average was a meager .267; he never hit more than 30 home runs in a season, only once more than 100 RBI's in a season and hit an average of less than 12 home runs a season.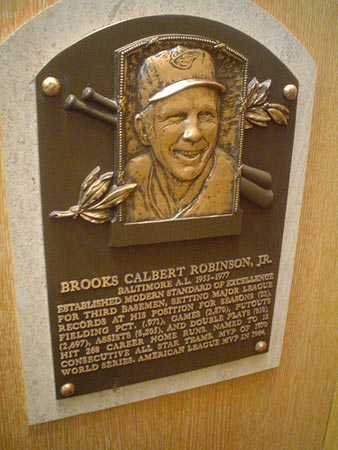 Brooks Robinson Hall of Fame. Thanks to flickr.com for the picture. Source: bunkosquad
---

For a player with these lowly batting numbers to be inducted into the Hall of Fame with a 91% induction rate, the legend of the Human Vacuum Cleaner must be pretty incredible. The overall ability for a player to be so dominant in the field, and at a position that is so tricky to play shows why Brooks Robinson is the best baseball fielder of all time.

Do you want to learn to field a baseball like Brooks Robinson did? If so, check out Baseball Catching at Youth Baseball Made Easy.
From Best All-Time Baseball Fielder to Best All-Time Baseball Hitter.
What do you think?

We'd love to hear your comments and/or opinions. If you submit them here, other visitors can read them, rate them and comment on them. An e-mail address is not required.


What Other Visitors Have Said
Click below to see contributions from other visitors to this page...

Brooks Robinson Was a Clutch Hitter Not rated yet
I would agree that Brooks is the best defensive player "ever". What I don't agree with is that he was a mediocre hitter. If you look at the batting …
---
Best All Time Professional Baseball Player
|
Best All Time Baseball Franchise
|
Best All Time Professional Baseball Franchise
|
Best All Time Professional Baseball Hitter
|
Best Current Professional Baseball Hitter
|
Best All Time Professional Baseball Manager
|
Best All Time Professional Baseball Pitcher
|
Best All Time Professional Baseball Stadium
|
Best All Time Professional Baseball World Series
|
Best All Time First Baseman
|
Best All Time Right Handed Pitcher
---
From Best All Time Baseball Fielder to MLB History | Best All Time Sports Blog | History of Professional Football | History of NBA | History of Hockey | NCAA Football History | NCAA Basketball History | NCAA Baseball History | History of College Sports | Olympic Sports History | History of All Sports | Best Moments in Sports History | Worst All Time Sports Moment | Current Best All Time Sports News | NFL Football Apparel and Merchandise | MLB Baseball Apparel and Merchandise | NBA Basketball Apparel and Merchandise | NHL Hockey Apparel and Merchandise | College Fan Apparel and Merchandise | Other Sports Fan Apparel and Merchandise | Fathead | Sports Tickets |
---
Return to Home Page
About Us | Contact Us | Site Search | Advertise | Terms of Use / Privacy Policy |
---