Best All Time First Baseman


Albert Pujols is the best all time pro baseball first baseman. Of course, he is still playing and you may think of other 1st basemen in baseball history you'd rank over Pujols for now. But, assuming a continued high level of play (reasonable assumption) there is little doubt that if Albert Pujols isn't already recognized as the greatest Major League Baseball (MLB) first baseman in history, he will be by his career's end.
He has been the model of consistency in Major League Baseball for the last decade. Regarded as one of the best batters of this generation, Pujols is an remarkable talent; a great hitter who hits for contact and rarely strikes out. Along with good defense as a first baseman, he is just one awesome baseball player. Pujols has been named the National League's Most Valuable Player; in 2005, 2008 and most recently in 2009. In 2009, Pujols was a unanimous pick for the NL MVP -- the first unanimous pick since Barry bonds in 2002. He's been picked for 8 all-star games and picked up a gold glove in 2006. In fact, Pujols is generally considered by many to be the top player in MLB baseball today – in any position!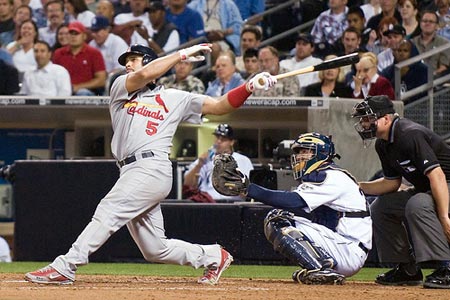 Had 2 home runs this game, this was one of them. Thanks to flickr.com for the picture. Source: SD Dirk
---

Pujols has also been a great postseason player, leading the St. Louis Cardinals to the World Series twice; in 2004 and 2006; winning it in 2006. Additionally, Albert's name has never come up in the current steroid scandals. With Pujols' clean profile, MLB can convey the message that it is attainable to hit 40 home runs, drive in over 100 runs, and hit over .300 without using performance enhancing drugs (PED's).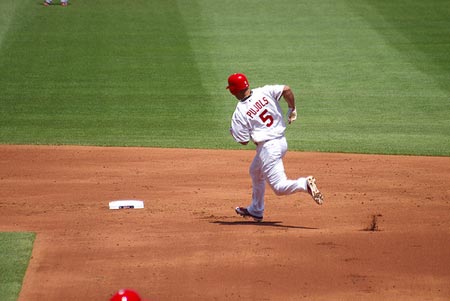 Albert Pujols Rounds Second. Thanks to flickr.com for the picture. Source: bk1bennett
---

We often find critics and analysts comparing Albert Pujols and Alex Rodriguez as to which is the best player in baseball today. There are a few reasons why Pujols is clearly considered the best player in baseball ahead of A-Rod and others. Pujols is considered a better fielder, and he is a career .334 hitter compared to A-Rod's .306. Pujols is a more competant hitter than A-Rod because uses the entire whole field, where A-Rod does that occasionally. Pujols strikes out way less than A-Rod about sixty times/ season compared to A-Rod about 120/ season, which says that Pujols has better bat control.

And, Pujols is clean; no taint of steroids. A-Rod can't say that anymore.

No doubt, Albert Pujols is the best 1st baseman in Major League Baseball history.

Here's an interesting current story about whether Albert Pujols will be a free agent.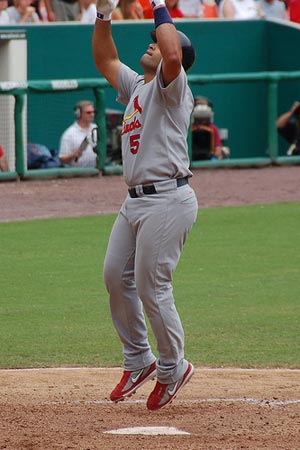 Albert Pujols Scores. Thanks to flickr.com for the picture. Source: Scott Ableman
---
What do you think?

We'd love to hear your comments and/or opinions. If you submit them here, other visitors can read them, rate them and comment on them. An e-mail address is not required.


What Other Visitors Have Said
Click below to see contributions from other visitors to this page...

Yep, Pujols is the Top MLB 1st Baseman In History



Albert Pujols is the best first baseman of all time. While he has only had 8 full seasons in the league Pujols has set himself apart from his peers. Not …
Not Yet Not rated yet
Better than Lou Gehrig and Jimmie Foxx? Not yet.
---
Best All Time Professional Baseball Player
|
Best All Time Baseball Franchise
|
Best All Time Professional Baseball Franchise
|
Best All Time Professional Baseball Hitter
|
Best Current Professional Baseball Hitter
|
Best All Time Professional Baseball Manager
|
Best All Time Professional Baseball Pitcher
|
Best All Time Professional Baseball Stadium
|
Best All Time Professional Baseball World Series
|
Best All Time Baseball Fielder
|
Best All Time Right Handed Pitcher
---
From Best All Time First Baseman to MLB History | Best All Time Sports Blog | History of Professional Football | History of NBA | History of Hockey | NCAA Football History | NCAA Basketball History | NCAA Baseball History | History of College Sports | Olympic Sports History | History of All Sports | Best Moments in Sports History | Worst All Time Sports Moment | Current Best All Time Sports News | NFL Football Apparel and Merchandise | MLB Baseball Apparel and Merchandise | NBA Basketball Apparel and Merchandise | NHL Hockey Apparel and Merchandise | College Fan Apparel and Merchandise | Other Sports Fan Apparel and Merchandise | Fathead | Sports Tickets |
---
Return to Home Page
About Us | Contact Us | Site Search | Advertise | Terms of Use / Privacy Policy |
---