Best All-Time Professional Baseball Hitter


There are many choices for the best baseball hitter of all time. Some may say, "Oh, it's easily Babe Ruth," and others may say, "It's obviously Lou Gehrig."
Controversially, I don't think that baseball is all about power, but really the domination of the bases. One power player can go up to bat, hit a home run on the third pitch, and score a run for the team. Three safe hitters can go up to bat, hit singles and score a run. The toll that the three batters have on the pitcher is a lot more than just a single player hitting a home run. Not only do you score a run, but you also have other players on base for an additional chance to score. For this reason, my choice for the best professional baseball hitter of all-time is Ty Cobb.

Ty Cobb played during the dead-ball era and was widely known as one of the meanest, and most aggressive players in the game. He had a mean temper, got into fights (including jumping into the stands and fighting a handicapped man), got into fist fights with umpires after games and even stabbed a man. He sharpened the spikes on his cleats till they could cut a man, and that was his purpose when sliding into a base. His pure passion and aggression in the game solidified his name as a force to be reckoned with.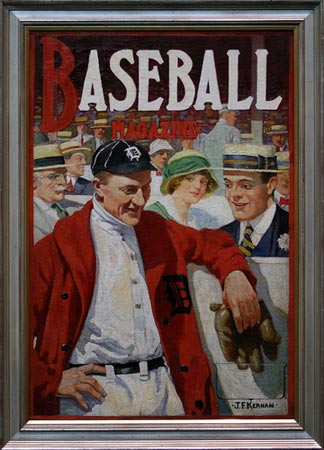 Hall of Fame baseball player Ty Cobb is regarded by historians and journalists as the best player of the dead-ball era and as one of the greatest players of all time.
Thanks to flickr.com for the picture. Source: cliff1066
---

Cobb started off his professional career batting .316 as a rookie and after his rookie season, he led the Detroit Tigers to the World Series for three consecutive seasons. His second season he batted a league high .350 batting average, 212 hits, 49 steals and 119 RBI's. While a .350 batting average may seem phenomenal, it wasn't great for Cobb. In his career he batted above .400 three times and won 11 batting titles, all within a span of 13 seasons.

Not only did he have the average, but he also led the league in other hitting statistics. He led in stolen bases six times, OBP (on base percentage) seven times, slugging eight times, runs five times, RBI's four times, hits eight times, OPS (on base percentage plus slugging percentage) ten times, doubles three times, triples four times, and even led the league in home runs one year.

His well-rounded playing showed that he could hit how he wanted to, when he wanted to. During his career he set 90 different records. I can bet you that there aren't very many players that even set 20, let alone 90. The records by themselves put Cobb up there as the best Major League Baseball hitter ever.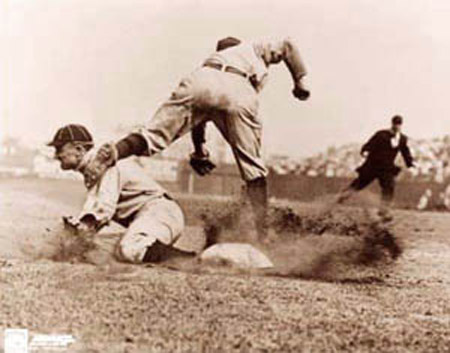 Charles Conlon's famous picture of Cobb stealing third during the 1909 season.
Thanks to flickr.com for the picture. Source: B K Photos
---

To put in perspective how dominate he was at the plate, I will use some modern players for comparison. Cobb has a lifetime batting average of .367, the highest ever. Ichiro Suzuki has only batted higher than .367 once, and he batted .372. Cobb has a career total of 4189 hits, Tony Gwynn only has 3,141. Cobb has held the record for most games played, most runs scored, most hits, most at bats and most stolen bases, all for over 50 years.

In addition to these records, he was a part of the first Hall of Fame ballot in 1936 and was inducted with a 98.2% inductance rate. To measure the amount of the respect he received from others, he earned more votes in the ballot than any other player on the election. This list includes Hall of Famers Babe Ruth, Honus Wagner, Tris Speaker, Christy Mathewson, Lou Gehrig, Cy Young, Nap Lajoie, Jimmie Foxx, Grover Cleveland Alexander, George Sisler and Walter Johnson.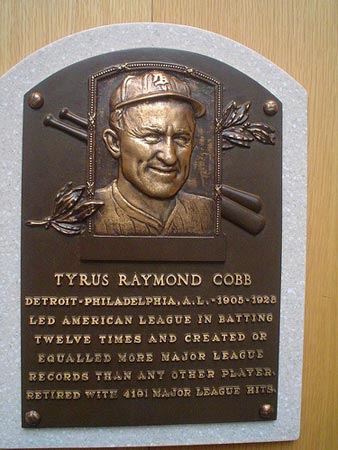 Hall of Fame baseball player Ty Cobb. Thanks to flickr.com for the picture.
Source: bunkosquad
---

An MVP, Hall of Fame honors and almost 100 records, still doesn't add up to who the man Ty Cobb was. Not only did his on field play live on for the ages, but his antics and jagged personality came with. The thought of how he acted may shock people nowadays, but it brings most people back to the rough and tough attitude of players and the game itself a century ago.

Ty Cobb lived for the sport of baseball, and to him it wasn't just a game, but a way of life. This results in why the best professional baseball hitter of all time is Ty Cobb.

If you liked this article, check out Best All-Time Professional Baseball Pitcher; Best All-Time Baseball Franchise and Best All-Time Baseball Fielder.
What do you think?

We'd love to hear your comments and/or opinions. If you submit them here, other visitors can read them, rate them and comment on them. An e-mail address is not required.


What Other Visitors Have Said
Click below to see contributions from other visitors to this page...

Sammy Sosa Best MLB Baseball Hitter Ever Not rated yet
When I was younger I used to collect baseball cards religiously. I followed the best players and kept tabs of their performances and homeruns. I remember …
Tony Gwynn Best Baseball Hitter Ever Not rated yet
In the view of millions of baseball fans, the best all time Pro Baseball Hitter is Anthony (Tony) Keith Gwynn. After spending two decades of top-knotch …
---
Best All Time Professional Baseball Player
|
Best All Time Baseball Franchise
|
Best All Time Professional Baseball Franchise
|
Best Current Professional Baseball Hitter
|
Best All Time Professional Baseball Manager
|
Best All Time Professional Baseball Pitcher
|
Best All Time Professional Baseball Stadium
|
Best All Time Professional Baseball World Series
|
Best All Time Baseball Fielder
|
Best All Time First Baseman
|
Best All Time Right Handed Pitcher
---
From Best All Time Professional Baseball Hitter to MLB History | Best All Time Sports Blog | History of Professional Football | History of NBA | History of Hockey | NCAA Football History | NCAA Basketball History | NCAA Baseball History | History of College Sports | Olympic Sports History | History of All Sports | Best Moments in Sports History | Worst All Time Sports Moment | Current Best All Time Sports News | NFL Football Apparel and Merchandise | MLB Baseball Apparel and Merchandise | NBA Basketball Apparel and Merchandise | NHL Hockey Apparel and Merchandise | College Fan Apparel and Merchandise | Other Sports Fan Apparel and Merchandise | Fathead | Sports Tickets |
---
Return to Home Page
About Us | Contact Us | Site Search | Advertise | Terms of Use / Privacy Policy |
---