Best All Time Professional Baseball World Series


While this subject is a bit controversial, considering all the great moments in the baseball history, the best all time professional baseball World Series has to be the 1968 World Series, between the Detroit Tigers and the St. Louis Cardinals. The Tigers ended up winning the Series 4-3.
The 1968 World Series was the Tigers first championship win since 1945. The 1968 season had been known to be the "Pitcher's year", featuring impressive Cardinal's pitcher Bob Gibson, who earned the MVP title in 1964 and 1967. The 1968 World Series is also epic because, it was the first time the Cardinals had lost a Game 7. This was also the last series to be played before the introduction of divisional play in the Major Leagues and the expansion of the postseason. For baseball-related reasons and for historic reasons, the 1968 World Series really was the top pro baseball World Series in the history of the sport.

Game 7 saw a face-off between undefeated Mickey Lolich and undefeated Bob Gibson. This game was nothing short of amazing. Through six innings, each pitcher was tossing a shutout. It was finally at the 7th inning that the Tigers scored 3 runs (after 2 outs in the inning), ensuring them the championship title and awarding Mickey Lolich the Series MVP.

The two teams also featured a number of future Hall of Famers like Al Kaline and Eddie Matthews from Detroit and Lou Brock, Steve Carlton, Bob Gibson, Orlando Cepeda and Red Schoendienst from St. Louis.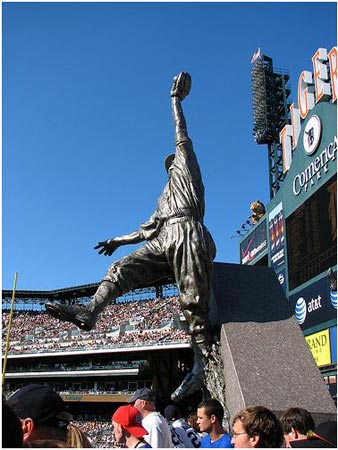 Al Kaline Statue at Comerica Park, Detroit. Thanks to flickr.com for the picture.
Source: Dave Hogg
---

Sports Historian Lee Allen made a statement saying that the 1968 World Series was the last "pure series" in the baseball history, referring to the introduction of divisional play afterwards. The pitcher duel between undefeated pitchers Lolich and Gibson is historic and Game 7 is still regarded highly in the World Series history as being unique, even epic.

The 1968 World Series will always be remembered dearly by baseball fans and sports historians. It was a unique championship featuring all-star players facing off for the first time, in a duel that only one team could win. The series and particularly Game 7, was tight and the game could have turned around at any moment. In the end the Detroit Tigers won Game 7 and the 1968 World Series -- the Greatest Major League Baseball World Series in history.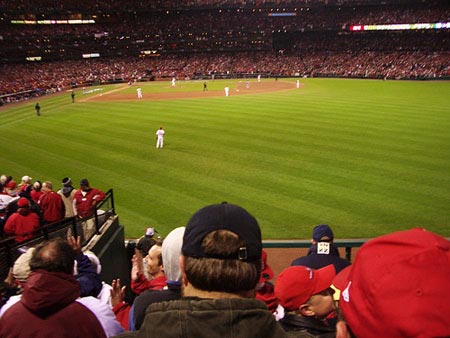 St. Louis playing in Game 7 of the 2006 World Series vs. the Detroit Tigers.
Thanks to flickr.com for the picture. Source: Andrman
---
What do you think?

We'd love to hear your comments and/or opinions. If you submit them here, other visitors can read them, rate them and comment on them. An e-mail address is not required.


---
Best All Time Professional Baseball Player
|
Best All Time Baseball Franchise
|
Best All Time Professional Baseball Franchise
|
Best All Time Professional Baseball Hitter
|
Best Current Professional Baseball Hitter
|
Best All Time Professional Baseball Manager
|
Best All Time Professional Baseball Pitcher
|
Best All Time Professional Baseball Stadium
|
Best All Time Baseball Fielder
|
Best All Time First Baseman
|
Best All Time Right Handed Pitcher
---
From Best All Time Professional Baseball World Series to MLB History | Best All Time Sports Blog | History of Professional Football | History of NBA | History of Hockey | NCAA Football History | NCAA Basketball History | NCAA Baseball History | History of College Sports | Olympic Sports History | History of All Sports | Best Moments in Sports History | Worst All Time Sports Moment | Current Best All Time Sports News | NFL Football Apparel and Merchandise | MLB Baseball Apparel and Merchandise | NBA Basketball Apparel and Merchandise | NHL Hockey Apparel and Merchandise | College Fan Apparel and Merchandise | Other Sports Fan Apparel and Merchandise | Fathead | Sports Tickets |
---
Return to Home Page
About Us | Contact Us | Site Search | Advertise | Terms of Use / Privacy Policy |
---