Best Current Professional Baseball Hitter


Manny Ramirez is the best current professional baseball hitter who is known for dreadlocks, the baggy pants, carefree attitude, fielding adventures, leaving behind ten-thousand dollars in car's glove-compartment, and vanishing behind a wall during pitching changes and giving a high-five to a fan in the midst of executing a double-play.
Ramirez, formerly the Boston Red Sox left fielder who, on May 31, 2008 entered the exclusive 500-home-run club with a shot off the Orioles reliever, Chad Bradford in the 7th innings. He is among the best all-around hitters ever to play baseball.

He, together with Albert Pujols and Alex Rodriguez is certainly on the short list as the best right-handed batters of this current generation!

Orioles hitting Coach Terry Crowley said that he had an amazing swing, capable of hitting the fastest of pitches, and with such force that it seems that he will break the ball in pieces! Also, one American League scout said about the trio of Pujols, Ramirez, and Rodriguez, that although the other two are remarkable players, Ramirez is incomparable. For most people, Ramirez is the most exciting of all players, the only one they pay to watch. There's just something about the way Ramirez can wait on a pitch until the last possible second and then rip it to all fields.
Manny Ramirez. Thanks to flickr.com for the picture. Source: bryce_edwards
---

There are 23 other men in baseball history to have hit at least 500 home runs. Of those, only Jimmie Foxx, Babe Ruth, and Ted Williams have greater lifetime batting average than Manny Ramirez' .312 career average. His 1,655 RBI through June 28, 2009 was 25th all time and moving up.

Ramirez also has a shortcoming, in that he accumulated his super power numbers in the midst of the Steroid period where many players were marred with accusations, and often, implications. Ramiriz has been marred by the scandal. In fact, in 2009, Manny was suspended for 50 games for violating the MLB's Performance Enhancing Drug Policy.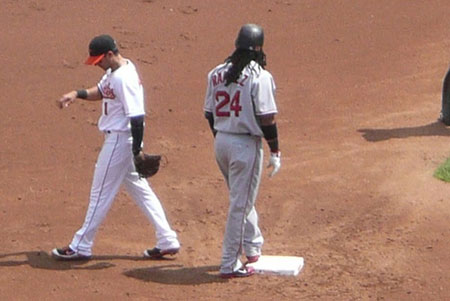 Manny Ramirez Red Sox vs Orioles. Thanks to flickr.com for the picture. Source: lsiegert
---

All of this makes it hard for Ramirez to be compared with old legends, but what helps to set Ramirez apart in this period is his reliability. Between 1995 to 2006, he did not hit more than forty five homers in any one season and never less than twenty-six. In that time, he stuck hundred or more runs eleven times. On 5 different occasions, he had 125 or more RBI.

Year after year, Manny Ramirez simply produces, and that's what makes him the top hitter today in major league baseball.
What do you think?

We'd love to hear your comments and/or opinions. If you submit them here, other visitors can read them, rate them and comment on them. An e-mail address is not required.


---
Best All Time Professional Baseball Player
|
Best All Time Baseball Franchise
|
Best All Time Professional Baseball Franchise
|
Best All Time Professional Baseball Hitter
|
Best All Time Professional Baseball Manager
|
Best All Time Professional Baseball Pitcher
|
Best All Time Professional Baseball Stadium
|
Best All Time Professional Baseball World Series
|
Best All Time Baseball Fielder
|
Best All Time First Baseman
|
Best All Time Right Handed Pitcher
---
From Best Current Professional Baseball Hitter MLB History | Best All Time Sports Blog | History of Professional Football | History of NBA | History of Hockey | NCAA Football History | NCAA Basketball History | NCAA Baseball History | History of College Sports | Olympic Sports History | History of All Sports | Best Moments in Sports History | Worst All Time Sports Moment | Current Best All Time Sports News | NFL Football Apparel and Merchandise | MLB Baseball Apparel and Merchandise | NBA Basketball Apparel and Merchandise | NHL Hockey Apparel and Merchandise | College Fan Apparel and Merchandise | Other Sports Fan Apparel and Merchandise | Fathead | Sports Tickets |
---
Return to Home Page
About Us | Contact Us | Site Search | Advertise | Terms of Use / Privacy Policy |
---