Best All-Time Professional Baseball Pitcher


The best all-time professional baseball pitcher is easily Cy Young. The pitcher that basically helped to create baseball, has the award for the best pitcher in the league named after him, and holds numerous records easily holds the position as the best there was on the mound.
Cy Young began pitching at the age of 22 and pitched for 22 seasons in the Major League's. On the day of his first MLB game, he pitched a three hit shutout, foreshadowing what was to come from this baseball king. When he began pitching, he was known as one of the hardest throwers in the game. His speed helped to contribute to the increase in distance for the mound to plate. When he started it was 50 feet, but after six seasons of dominance, the mound was gradually pushed all the way back to 60 feet, where it stands today.

Young grew up in an early era where pitchers threw complete games regularly, and there were even instances when Young threw complete game double headers. Starting pitchers nowadays rarely throw complete games, let alone days back to back, let alone double headers. Young thus helped to introduce the "change up" to baseball as a result of the extreme pitching, as a way to rest his arm during games. Out of the 815 games he started, he pitched a complete game in 749 out them.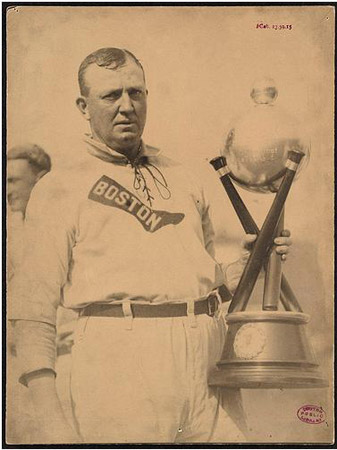 Cy Young of the Boston Red Sox on Cy Young Day. Thanks to flickr.com for the picture. Source: Boston Public Library
---

Young was also a player of many firsts. He was the first player in American League history to pitch a perfect game, and the first to throw a pitch in the modern World Series. He is one of only 25 pitchers to have achieved the pitching Triple Crown - leading the league in wins, strikeouts and ERA.

Cy Young's legacy of being the best Major League Baseball pitcher in history lives on with the records that he holds. He has the most wins, 511, ... and losses, 316, of any pitcher in MLB history. He has the most consecutive innings without allowing a hit, 24.1, and the most overall innings pitched, 7355. Also, he holds the record for most games started and the most complete games.

Cy Young is the greatest there ever was, and will never be passed in his records. He has 1400 more innings pitched than the second place pitcher on the list, and the closest active player, Roger Clemens (who has recently retired), only has 4916.2 innings pitched. To break Young's record, a pitcher would have to pitch an average of 368 innings a season, for 20 years. No pitcher has pitched more than 300 innings in a single season since 1980.
Cy Young posed in pitching motion with three men in dugout watching. Thanks to flickr.com for the picture. Source: Boston Public Library
---

Young's record of 511 wins will also never be broken. The 511 wins he has is almost 100 more than the second place player, Walter Johnson. Nowadays, players are highly commended for reaching 300 wins, let alone 500.

Young was elected to the Baseball Hall of Fame in 1937, after his second year of eligibility. He ranks #14 on the Baseball's Greatest 100 list and was named to the MLB All Century Team. The 22 seasons that Cy Young pitched gave him four records that will never be broken, an award named after him for the best pitcher and the place of being the best all-time professional baseball pitcher.

Check out Best All-Time Professional Baseball Hitter.
What do you think?

We'd love to hear your comments and/or opinions. If you submit them here, other visitors can read them, rate them and comment on them. An e-mail address is not required.


---
Best All Time Professional Baseball Player
|
Best All Time Baseball Franchise
|
Best All Time Professional Baseball Franchise
|
Best All Time Professional Baseball Hitter
|
Best Current Professional Baseball Hitter
|
Best All Time Professional Baseball Manager
|
Best All Time Professional Baseball Stadium
|
Best All Time Professional Baseball World Series
|
Best All Time Baseball Fielder
|
Best All Time First Baseman
|
Best All Time Right Handed Pitcher
---
From Best All Time Professional Baseball Pitcher to MLB History | Best All Time Sports Blog | History of Professional Football | History of NBA | History of Hockey | NCAA Football History | NCAA Basketball History | NCAA Baseball History | History of College Sports | Olympic Sports History | History of All Sports | Best Moments in Sports History | Worst All Time Sports Moment | Current Best All Time Sports News | NFL Football Apparel and Merchandise | MLB Baseball Apparel and Merchandise | NBA Basketball Apparel and Merchandise | NHL Hockey Apparel and Merchandise | College Fan Apparel and Merchandise | Other Sports Fan Apparel and Merchandise | Fathead | Sports Tickets |
---
Return to Home Page
About Us | Contact Us | Site Search | Advertise | Terms of Use / Privacy Policy |
---