Best All Time Diver


The best all time diver is Greg Louganis, the star of the 1984 and 1988 Olympics. He set records and brought excitement to the sport of diving. He earned more points than anyone else and scored double gold medals in two Olympics. He was only the second guy to do that in diving. If the U.S. hadn't boycotted the Moscow Olympics, who knows what Louganis could have added to his legacy.
Louganis was born in California in 1969 and was adopted as a baby. He had a troubled childhood. Like some other great athletes, it seems that focusing on a sport was the answer. Louganis was teased about several things as a youngster and found himself involved with drugs and other risky behavior. He was able to turn that around with the structure of pursuing a sport. His focus on diving paid off when he found himself getting 2nd place at the 1976 Summer Olympics and went on to receive a perfect score of 10 at the World Championship in 1982.
Many people remember Greg Louganis for an incident that happened in the 1988 Seoul Olympic Games. During competition, Louganis misjudged his dive and hit his head on the board. At the time, Louganis knew that he was HIV positive but he chose not to tell the doctor who stitched him up. He later apologized. Louganis went on to finish the Olympic competition at the top -- with two golds. One in springboard and the other in tower diving.
Louganis retired from competition in 1989. He became a stage actor. In 1994, Louganis came out about his homosexuality and in 1995 he shared with Barbara Walters that he was dealing with full-blown AIDS.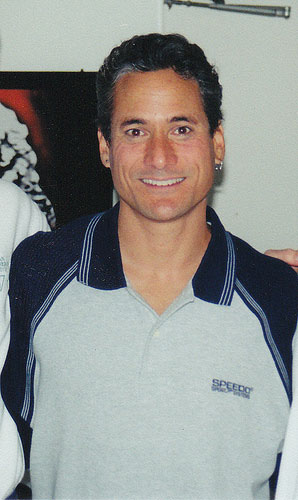 Gay Olympic gold-medal winning diver Greg Louganis. Thanks to Alan Light on flickr.com for the picture.
---
Today, he spends a lot of time speaking to groups about drug and alcohol addiction treatment, and works to educate people about dyslexia and HIV awareness. He looks forward to seeing his diving records broken. In addition, he has written two books. One is his autobiography and the other is called "For The Life of Your Dog".
It takes dedication to devote so many years of your life to a sport as intensive as diving. Louganis showed the world that perseverance can lead to opportunities that will help you meet your goals. His goal was to be the best all time diver. His work paid off because that's just what he is. Greg Louganis is an inspiration to all those who dream about achieving greatness in an athletic pursuit.
What do you think?

We'd love to hear your comments and/or opinions. If you submit them here, other visitors can read them, rate them and comment on them. An e-mail address is not required.


---
Best All Time Badminton Player
|
Best All Time Cross Country Runner
|
Best All Time Field Hockey Player
|
Best All Time Gymnast
|
Best All Time Olympian
|
Best All Time Rowing Team
|
Best All Time Rugby Player
|
Best All Time Skier
|
Best All Time Soccer Player
|
Best All Time Soccer Team
|
Best All Time Swimmer
|
Best All Time Table Tennis Player
|
Best All Time Tennis Player
|
Best All Time Track and Field Athlete
|
Best All Time Volleyball Player
|
Best All Time Wrestler
|
---
From Best All Time Diver to Olympic Sports History | Best All Time Sports Blog | History of Professional Football | MLB History | History of NBA | History of Hockey | NCAA Football History | NCAA Basketball History | NCAA Baseball History | History of College Sports | History of All Sports | Best Moments in Sports History | Worst All Time Sports Moment | Current Best All Time Sports News | NFL Football Apparel and Merchandise | MLB Baseball Apparel and Merchandise | NBA Basketball Apparel and Merchandise | NHL Hockey Apparel and Merchandise | College Fan Apparel and Merchandise | Other Sports Fan Apparel and Merchandise | Fathead | Sports Tickets |
---
Return to Home Page
About Us | Contact Us | Site Search | Advertise | Terms of Use / Privacy Policy |
---