Best All-Time Swimmer


If being the best all-time swimmer can be measured by Olympic medals then Michael Phelps takes the honors. Phelps won eight Olympic gold medals in 2008, beating the seven that Mark Spitz won in 1972. Altogether, Phelps has received 16 Olympic medals, all but two of them gold, by participating in two Olympics. He also holds many world and Olympic records.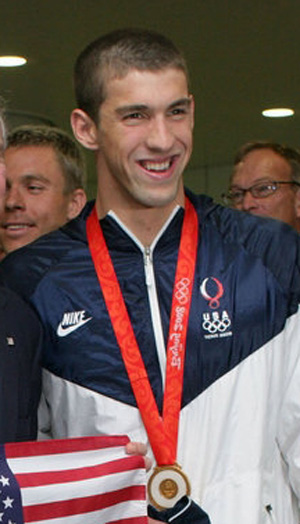 Michael Phelps at the 2008 Beijing Olympics. Thanks to wikipedia.org for the picture.
---
Phelps suffered from ADHD as a child. His mother hoped that swimming competitively would help him focus. He has two older sisters who swam as well. Phelps began swimming at age seven and by age ten held a national record in his age group. He met his coach, Bob Bowman, at age 12. His swimming continually got better and faster until he went to the 2000 Olympics at age 15. After his successes at the Olympics he has made $5 million per year in endorsements. Phelps started a foundation to promote water safety and to encourage kids to swim. He has over 2 million fans on his page at a popular social networking site.


It hasn't always been easy for Phelps. At 19, he was arrested for driving under the influence and in 2009 was embarrassed by a photo that was made public showing him smoking marijuana. He was suspended from competitive swimming for three months. Whether he wants to be or not, he is a role model for up and coming swimmers.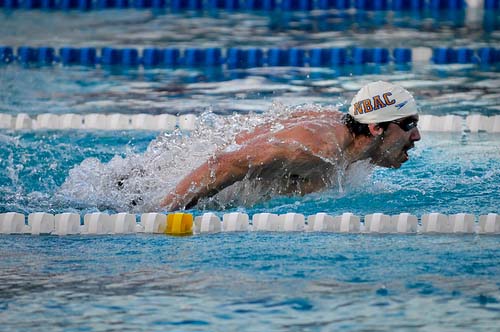 Michael Phelps, the greatest Olympian of all time, is finishing 200m butterfly race at the Santa Clara Invitational. Thanks to Ivan Makarov on flickr.com for the picture.


Phelps' build is especially suited for swimming. He has a long torso and arms and comparatively short legs. Large feet and double-jointed ankles add to the swimmer's form. That alone is not responsible for his success. It takes hard work to become the best swimmer ever. During peak training he swims nearly 50 miles a week. He trains so hard that he eats a massive amount of calories to replenish what he burns up in practice. At the 2008 Olympics he swam 17 times in nine days. He can eat whatever he wants and chooses a lot of carbs and healthy fats.


Phelps hasn't put aside his goals for his swimming career. He is working towards the 2012 Olympics. It takes commitment to practice for something for years. Phelps is determined to reach his goals and who know where that will lead him. His fans know that if it can be done, Phelps will do it. After all, he's the best all-time Olympic swimmer and, for that matter, simply the best swimmer in history. Period.
What do you think?

We'd love to hear your comments and/or opinions. If you submit them here, other visitors can read them, rate them and comment on them. An e-mail address is not required.


What Other Visitors Have Said
Click below to see contributions from other visitors to this page...

Phelps Has Surpassed Spitz Not rated yet
Mark Spitz "was" the greatest Olympic swimmer of all time. In fact, he was the first swimmer to ever win more than 2 gold medals at one olympic games …
---
Best All Time Badminton Player
|
Best All Time Cross Country Runner
|
Best All Time Diver
|
Best All Time Field Hockey Player
|
Best All Time Gymnast
|
Best All Time Olympian
|
Best All Time Rowing Team
|
Best All Time Rugby Player
|
Best All Time Skier
|
Best All Time Soccer Player
|
Best All Time Soccer Team
|
Best All Time Table Tennis Player
|
Best All Time Tennis Player
|
Best All Time Track and Field Athlete
|
Best All Time Volleyball Player
|
Best All Time Wrestler
|
---
From Best All Time Swimmer to Olympic Sports History | Best All Time Sports Blog | History of Professional Football | MLB History | History of NBA | History of Hockey | NCAA Football History | NCAA Basketball History | NCAA Baseball History | History of College Sports | History of All Sports | Best Moments in Sports History | Worst All Time Sports Moment | Current Best All Time Sports News | NFL Football Apparel and Merchandise | MLB Baseball Apparel and Merchandise | NBA Basketball Apparel and Merchandise | NHL Hockey Apparel and Merchandise | College Fan Apparel and Merchandise | Other Sports Fan Apparel and Merchandise | Fathead | Sports Tickets |
---
Return to Home Page
About Us | Contact Us | Site Search | Advertise | Terms of Use / Privacy Policy |
---