Best All Time Volleyball Player

Volleyball has exploded in popularity in recent years due to the popularity of beach volleyball which has become quite an attractive sport that many love to watch on TV. Beach Volleyball has taken over in public popularity. In fact, it was one of the most watched events in the last Olympic games in Beijing. There are both men and women teams and both genders produce some of the greatest players in the game. It is hard to pick just one best all time volleyball player.
If we have to pick just one we'd have to go with Karch Kiraly. The reason we pick Kiraly as the best volleyball player in history is because he's been outstanding in both indoor and beach volleyball. Also, Karch's longevity is unmatched. He started playing in high school and starred at UCLA. In fact he led the Bruins to three NCAA Men's Volleyball Championships between 1979 – 1982. During that time, UCLA won 129 matches and lost only 5.
Kiraly is the only volleyball player to win 3 Olympic Gold Medals; 1984 (Los Angeles); 1988 (Seoul) – both indoor volleyball. He then partnered with Kent Steffes to win the first Men's Beach Volleyball Gold Medal in the 1996 Summer Olympics in Atlanta. Karch also won Gold in the 1986 world championships. He has won 148 professional beach volleyball matches and even now, in his mid-40's, Karch still competes at the highest levels of the sport and against much younger competition.
For all these reasons, we pick Karch Kiraly as the top player in the history of volleyball.
Karch Kiraly. Thanks to wikipedia.org for the picture.
---


Now, how about the women?


Misty May Treanor has won more beach volleyball tournaments than any other player. She was voted the AVP Most Valuable player three years in a row from 2005 to 2007 holds the record for the most consecutive beach volleyball tournament victories with 15 straight at one point. She also is the world record winner for 90 consecutive match victories. Misty is one of three players to hold the title AVCA National Player of the Year and could very well be named the best all time volleyball player.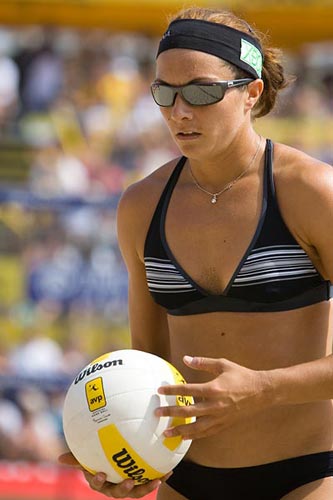 Misty May-Treanor prepares to serve during a tournament in 2007. Thanks to Jasonschock on wikipedia.org for the picture.
---
Logan Tom attended Stanford University where she was a four time first team All American and a two time winner of the NCAA National Player of the Year award. The youngest player on the Olympic Team in Sydney in 2000, nineteen year old Logan was on the starting line and placed fourth.
Flo Hyman was named one of the All Time Great Volleyball Players in 1985. She is one of the greatest and probably the most famous volleyball players with titles such as All World and Most Valuable Player.
They are all fantastic. But, we'll go with Misty Treanor as the best all time women's volleyball player.
---
What do you think?

We'd love to hear your comments and/or opinions. If you submit them here, other visitors can read them, rate them and comment on them. An e-mail address is not required.


---
Best All Time Badminton Player
|
Best All Time Cross Country Runner
|
Best All Time Diver
|
Best All Time Field Hockey Player
|
Best All Time Gymnast
|
Best All Time Olympian
|
Best All Time Rowing Team
|
Best All Time Rugby Player
|
Best All Time Skier
|
Best All Time Soccer Player
|
Best All Time Soccer Team
|
Best All Time Swimmer
|
Best All Time Table Tennis Player
|
Best All Time Tennis Player
|
Best All Time Track and Field Athlete
|
Best All Time Wrestler
|
---
From Best All Time Volleyball Player to Olympic Sports History | Best All Time Sports Blog | History of Professional Football | MLB History | History of NBA | History of Hockey | NCAA Football History | NCAA Basketball History | NCAA Baseball History | History of College Sports | History of All Sports | Best Moments in Sports History | Worst All Time Sports Moment | Current Best All Time Sports News | NFL Football Apparel and Merchandise | MLB Baseball Apparel and Merchandise | NBA Basketball Apparel and Merchandise | NHL Hockey Apparel and Merchandise | College Fan Apparel and Merchandise | Other Sports Fan Apparel and Merchandise | Fathead | Sports Tickets |
---
Return to Home Page
About Us | Contact Us | Site Search | Advertise | Terms of Use / Privacy Policy |
---