Who is the greatest baseball player of all time? A hitter or a pitcher? An outfielder or an infielder? A great slugger or a defensive specialist? The question is eminently debatable and everyone's individual preferences and biases will leave them with a different answer. Ultimately, I chose Babe Ruth because he was the ultimate winner who also created a legend for himself that no other player has ever equaled.
Babe Ruth began his career in 1914 as a Red Sox pitcher. Though talented and successful, his career was relatively unremarkable in Beantown and he was traded for cash to the rival New York Yankees in 1919. After what is now widely regarded as the most infamous trade in baseball history, Ruth went on to win seven titles in fifteen years with the Yankees while also earning himself the 1923 AL MVP award.

So, what makes him the greatest of all time? To begin with, any discussion of baseball's greatest outfielders begins and ends with the Babe. Though there have been other greats patrolling the outfield-Ted Williams, Barry Bonds, and Ken Griffey Junior come immediately to mind, none combined Babe's penchant for winning and legend building. Great as they were, none of those three all time fielders ever won a ring while Ruth had one for seven different fingers.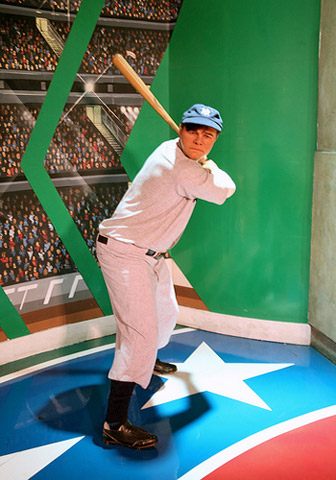 Thanks to Cliff for this great picture of the greatest baseball player of all time Babe Ruth.
---

Furthermore, Ruth's career statistics are more impressive than those of his peers-at the outfield or any other position-by any metric. His 714 home runs rank third on the all time list (and second on the clean list), he was just shy of 3,000 hits, and knocked in over 2,200 RBIs. Perhaps most importantly, Ruth had a batting average of .342, which meant that he combined average with power in a way that no other outfielder has done. To compare, Griffey Jr. has a batting average of .284 to go with his home runs, Bonds sports a .298, and, while Ted Williams matched Ruth's career average, he managed only 514 career home runs.

Moreover, for the stats wizards amongst us, Ruth also excelled according to more modern evaluative metrics. His career slugging percentage was an off the charts .690 and his career OPS was 1.164, which are both all time records. Combined with an OBP of .474 and his average and power statistics, the metrics show that Ruth was by far the most complete hitter the game has ever seen. And considering his legend, it seems the fans watching him at the time agreed with that assessment and, looking back now, it is quite clear that the Babe still reigns as the all time king of baseball.
If you liked this story, you might be interested in who we picked as the greatest football player of all time or the best all time SEC baseball player.
What do you think?

We'd love to hear your comments and/or opinions. If you submit them here, other visitors can read them, rate them and comment on them. An e-mail address is not required.


---
Best All Time Professional Baseball Player | Best All Time Baseball Franchise | Best All Time Professional Baseball Franchise | Best All Time Professional Baseball Hitter | Best Current Professional Baseball Hitter | Best All Time Professional Baseball Manager | Best All Time Professional Baseball Pitcher | Best All Time Professional Baseball Stadium | Best All Time Professional Baseball World Series | Best All Time Baseball Fielder | Best All Time First Baseman | Best All Time Right Handed Pitcher
---
From Best All Time Baseball Player to MLB History | Best All Time Sports Blog | History of Professional Football | History of NBA | History of Hockey | NCAA Football History | NCAA Basketball History | NCAA Baseball History | History of College Sports | Small College Football History | Olympic Sports History | History of All Sports | Best Moments in Sports History | Worst All Time Sports Moment | Current Best All Time Sports News | Best Sports Forum | NFL Football Apparel and Merchandise | MLB Baseball Apparel and Merchandise | NBA Basketball Apparel and Merchandise | NHL Hockey Apparel and Merchandise | College Fan Apparel and Merchandise | Other Sports Fan Apparel and Merchandise | Fathead | Sports Tickets |
---
Return to Home Page

About Us | Contact Us | Site Search | Advertise | Terms of Use |
---